Update, August 2016: Emerson Network Power has been sold to Platinum Equity - full details here. Update 2: The name change is back on, latest details here. For all our Vertiv stories, go here.
Emerson Network Power has followed through on plans to spin off its power business, announcing the independent unit will be called Vertiv, and sail off with Emerson VP Scott Barbour at the helm.
The unit is a leader in data center power systems, but its revenue has been declining, falling by nine percent in the second quarter of 2015, and by 28 percent over from 2011 to 2014. The spin-off, designed to allow it to be more dynamic, was announced in July 2015 and should be complete by the end of September 2016. It will be handled by a tax-free distribution to shareholders according to a Form 10 registration filed by Emerson Network Power this week.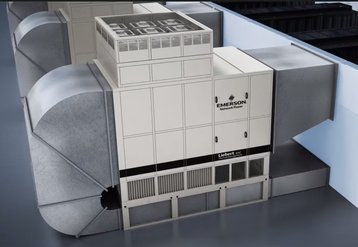 Sharpened focus
"The spinoff of Vertiv will sharpen Emerson's focus on high-growth markets and establish Vertiv as an industry-leading public company under Scott Barbour's strong leadership," said Emerson CEO David N. Farr.
Barbour, currently executive vice president of Emerson said: "Our years as part of Emerson have given us a tremendous foundation from which to launch and grow Vertiv as an independent company."
Emerson invested some $3.8 billion in acquisitions to build its power unit since 2000,but it has been the least profitable part of the company, according to a Bloomberg article, and sales are in decline. Without it, Emerson's profit margins are expected to grow from around 16 percent to 19 percent.
Vertiv will continue to offers products for power and thermal management in data centers and other industrial environments, as well as infrastructure management, monitoring, controls and software solutions for critical applications.
The Form 10 filing, visible on the Emerson site, gives information on Vertiv's business, including financial statements for fiscal years ended September 30, 2013, 2014 and 2015. Vertiv will continue to operate as a segment of Emerson until the separation is complete.
The separation is still subject to conditions including final approval by the Emerson board, receipt of a favorable opinion with respect to the tax- free nature of the transaction, and the effectiveness of the Form 10 registration statement filed with the Securities and Exchange Commission (SEC)