Emerson Network Power has launched the Liebert DCL modular rack cooling system, for small to medium data centers,  in Europe, Middle East and Africa (EMEA). 
The Liebert DCL units put chilled water cooling close to the heat source - the IT equipment - for efficiency. They combine closed loop and hybrid loop cooling and one unit can contain and cool up to four racks. Developed from an earlier rack product, the unit now has better efficiency and uses Emerson's iCOM thermal management.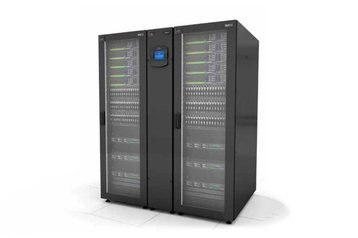 Cool it, fans!
The DCL product has been developed from a rack unit sold under the brand of Knurr brand which Emerson acquired in 2006. It now has up to 24 percent higher capacity and has been transferred to the Liebert brand.  
The addition of iCOM allows the units to monitor the supply and return air, and adjust the fan speed to provide the right amount of cold air to the servers. In any emergency, the unit fails to maximum cooling, by switching the fans to full speed and completely opening the chilled water valve. The doors can also be opened automatically, to use the data center air conditioning as a backup. 
The units have Emerson's LIFE remote diagnostics, which connect to experts at Emerson's own dedicated centers for proactive maintenance based on performance trends. 
Emerson's Network Power division, due to be spun off under the Vertiv brand, is now being sold to venture capitalists led by Platinum Equity.