Storage expert EMC has updated the XtremIO family of all-flash arrays with a new version of the software platform and a new 'X-Brick' – a building block with 40TB of raw flash capacity.
XtremIO 4.0 – nicknamed 'The Beast' - includes updates to copy data management services and enhanced support for hybrid cloud and private cloud storage, while the new X-Brick allows building arrays that double the amount of storage in the same footprint.
Bigger bricks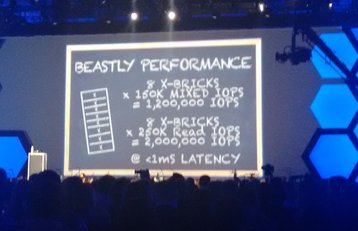 XtremIO storage arrays take full advantage of the properties of NAND memory to offer in-line deduplication and compression – features that can reduce write IO and network bandwidth requirements, lower response latencies as well as storage infrastructure costs.
This product was launched just 18 months ago, but according to IDC, has already become the market's top-selling all-flash storage array, as well as the fastest-selling product in EMC's history.
XtremIO 4.0 is a free software upgrade for third generation arrays that brings enhanced data protection with EMC's RecoverPoint software, non-disruptive online expansion and enables management of multiple arrays from the same interface.
The interface itself now includes more historical information and improves on tagging and search capabilities for handling large numbers of provisioned volumes, hosts and snapshots.
The new X-Brick increases the maximum amount of flash storage from 20TB to 40TB in the same 2U form-factor, enabling customers to instantly double the density of their all-flash arrays.
Customers can put up to eight X-Bricks in the same chassis, for a total capacity of 320TB. Add compression and deduplication, and you're looking at more than a petabyte of flash in a single box.
"XtremIO customers gain agility, simplicity and capabilities that help them make developers more productive, get applications deployed faster, and deliver higher quality. XtremIO is the strategic asset in the data center that simply redefines what's possible," said Guy Churchward, president of EMC Core Technologies.
Both new software and hardware will become available later this quarter.