UK-based thermal management specialist EkkoSense has launched a range of wireless, IoT-enabled humidity and temperature sensors for data centers, which it says will enable real-time, automated cooling optimization.
Designed to be placed at the rack level, the sensor was built (and can thus be sold) at a low cost, meaning it can be installed by the hundreds - a crucial element for accuracy in real-time analytics.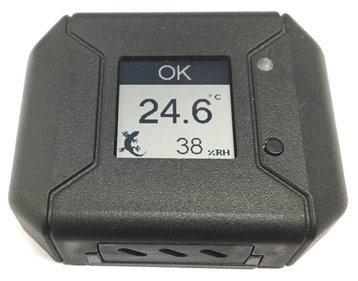 Reaping the benefits of IoT
The EkkoSensor collects data at the rack, protects it with 128-bit AES encryption, feeds it back to a wireless receiver, and then transfers it to the cloud, where it is processed by the company's analysis and visualization software.
Combined with energy usage and airflow distribution data, this information can provide operators with the insights needed to prevent eventual damage to IT equipment and the resulting downtime.
The sensor also provides current and past heat and humidity levels on a display screen, offering hourly, daily or weekly temperature profiles. 
Dean Boyle, CEO of EkkoSense, said: "At EkkoSense we know that it's only by combining rack-level granular cooling and thermal data, increasingly smart 3D thermal visualization monitoring software and proven Data Centre Optimization services, that you can actually start to track cooling loads in real-time."
He added that the product "makes this achievable, enabling the creation of a much more granular mesh of networked sensors that accurately capture not just temperatures, but also energy usage, heat outputs and airflows. And this is exactly the kind of information that data center and energy teams will increasingly need to evolve towards the next generation of data center AI applications."
The company demonstrated the latest version of its 3D visualization and monitoring software, EkkoSense Critical 3.2, at DCD's Zettastructure conference last year. The update introduced airflow analytics, dashboards and added integration with IoT-enabled sensors.