EdgeMicro, which plans to use container-based data centers to serve the network edge, has named thirty cities where it hopes to install its micro-facilities, and announced that a North American mobile network operator (MNO) is testing its units for use at cell tower sites. 
"We will be entering that MNO lab middle of this month, expect our testing of the benefits and ROI of multiple use cases to take roughly 30 days," said Mike Hagan, CEO of EdgeMicro. "From there, we will move to our first field test, and establish that our tower Tower Traffic Xchange (TTX) doesn't impact the mobile network in any way."
After testing with multiple content providers, he expects to move to rolling it out later this year.
Edging to delivery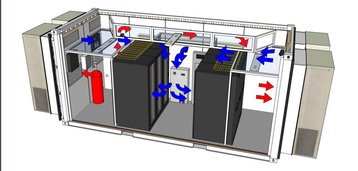 EdgeMicro does not name the operator, and the roll-out is still contingent on acceptance, but the announcement is a significant claim as numerous players line up to contest the important role of providing IT resources at cell towers to serve mobile devices and users.
The network "edge" could become a significant tech battleground, because many emerging applications require fast response and low latency.
Such applications include streaming content and virtual reality (VR), sensors handling real-time control and monitoring, and self-driving cars.
Centralized hyperscale data centers serving cloud applications cannot meet this demand, and mobile infrastructure, including cell towers, has emerged as a likely location to install the capacity required.
EdgeMicro says a "leading North American Mobile Network Operator" has begun verification tests of its technology, which consists of shipping container data centers from Schneider Electric, combined with IT hardware. The solution is particularly aimed at placing content close to end-users who can access it on mobile devices. To speed this up, EdgeMicro is providing a protocol called Tower Traffic Xchange (TTX), which will determine whether content is available locally, or has to be fetched from the Internet.
Although EdgeMicro has one MNO testing it, the product will be available to any customer when it is installed at cell towers: "Each and any MNO at that tower will have the ability access the data in our cache to serve all consumers," Hagan told us.
Speeding content to consumers is the same job currently done on the wired Internet by content delivery networks (CDNs) such as Akamai, that place standardized hardware in colocation sites to cache content. This same hardware can be placed - for the same cost - at cell towers if they have EdgeMicro equipment installed, Hagan told us. The TTX protocol will work with some of the CDN solutions, improving the ability to cache content for mobile users, he added.
"Today, if somebody on a mobile device makes a request for a piece of data from content provider, it goes to the top of tower, then goes to a to central office, and a mega data center," Hagan explained. "Until now there has been no protocol for that packet to land at the base of the tower, and ask if that data already there."
Other applications will be developed, such as handling data from VR, driverless cars and IoT sensors, but getting content to consumers will be the first application to be deployed, he said. 
The 30 "populated, yet underserved" US cities, where EgeMicro would like to deploy its micro data centers include Portland, Sacramento, San Diego, Las Vegas, Salt Lake City, Phoenix, Denver, Albuquerque, El Paso, Omaha, Kansas City, Oklahoma City, Austin, Houston, San Antonio, the Twin Cities, Des Moines, St. Louis, Memphis, Nashville, New Orleans, Detroit, Cleveland, Rochester, Pittsburgh, Raleigh-Durham, Jacksonville and Tampa.