EdgeMicro has deployed three new micro data centers in the Southern United States region - its first data center deployments.
Facilities in Austin, Texas, and Tampa, Florida, are expected to be in production this month, while the Raleigh, North Carolina, micro data center will come into production shortly.
Living at the Edge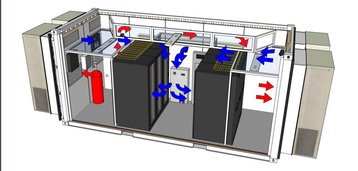 "All three cities are underserved peering markets where our MDCs can deliver significant improvements in latency and performance for our customers, and to end users in those cities." co-founder and EVP at EdgeMicro Greg Pettine told DCD. "These three markets are just the beginning. We will launch 20 additional sites in 2020, 50 in 2021 and 100 per year subsequently."
Although there has been a lot of marketing activity around Edge resources, adoption has been slow. Pettine said these sites would be a "good start" to increasing future adoption.
"This is about much more than three sites going live," Jason Bourg, VP of sales at EdgeMicro, said. "This is about how the EdgeMicro team has partnered with industry leaders to make these [modular data centers] a critical part of their IT strategies. We are starting with these initial sites and plan to quickly scale to hundreds of locations.
"People have wondered when 'the Edge' would take off. It's here now, and I'm proud to be working with these customers to make it a reality."
Colorado-based Edge colocation specialist EdgeMicro uses a containerized data center design, which can hold up to six racks, each designed to support 8kW of power. The pre-fabricated facility includes biometric security access controls and exterior and interior CCTV surveillance, protected power and redundant cooling.
The company launched in 2017, with a senior team of ex-Schneider Electric staff, and announced at the time that it was using Schneider micro data centers. EdgeMicro has contacted DCD to tell us that the company's products are "not based on a design licensed from Schneider Electric". We await clarification.