Edge Centres has lodged development approval (DA) for its first location in Bendigo, Regional Victoria.
The Australian Edge data center firm provides modular 'off grid' data centers powered by on-site wind and/or solar systems and connected to the main grid as backup.
The application is part of Edge Centre's planned rollout of 20 Edge facilities across Australia and Japan over the next 18 months.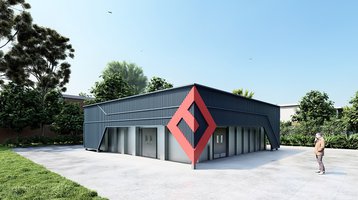 EC3 Bendigo is one of four facilities on track to begin operating throughout Australia in November 2021, including another site in Victoria. Edge Centres is also currently developing two Edge facilities in Japan.
Each facility is equipped with just under 1MW of solar infrastructure, and 48-hour battery and UPS backup equipment, which supports 64 1kW quarter racks.
Jonathan Eaves, founder and CEO of Edge Centres, called EC3 Bendigo "the first of many facilities that will digitally transform and interconnect regional Australia."
"Right now, Australia is on the cusp of an edge infrastructure wave, and Edge Centres is building ahead of this generational spike in demand for IoT, edge computing, and cloud. Building ahead of this wave means that we have time to build and connect the necessary infrastructure so that these regional hubs that haven't been connected previously can be ready when it hits," he said.
"We're bringing highly sustainable, highly reliable, off-grid digital infrastructure to the edge, and are working tirelessly to help enterprises across the country to bridge the digital divide."
As well as Bendigo, Edge Centres has facilities in operation or development in Grafton, and Dubbo, New South Wales; Toowoomba, Cairns, Mackay, and Townsville, Queensland; and Hobart, Tasmania.
In May the company announced a partnership with Everest Infrastructure Partners to deploy cell towers at its data center locations.