Swedish colocation provider EcoDataCenter is about to open a 2MW data center in Falun, Dalarna.
The facility was designed with a focus on efficiency and sustainability: it features a custom cooling system, is powered by renewable energy, and exports waste heat to be reused in the local district heating system.
The company calls it the first 'climate positive' data center in the world, since it doesn't produce any carbon dioxide, and actually reduces the overall carbon footprint of the city.
"The technical design of the data center will be a crucial issue going forward, since it has a tremendous impact on both environment and costs, and we see a very large market for our technology," said Lars Schedin, CEO of EcoDataCenter.
Schedin told DCD that customers moving into the facility can expect Tier IV reliability and Power Usage Effectiveness (PUE) of around 1.15.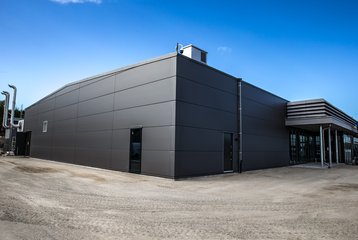 Making a positive contribution
EcoDataCenter is a joint venture between local energy company Falu Energi & Vatten and data center operator EcoDC AB. Its first project was announced in 2015.
The 2MW data center offers standard colocation and HPC hosting services. Waste heat from the servers will be fed into the district heating system run by Falu Energi & Watten to be reused in residential and commercial properties. It will also supply a local wood pellet factory.
EcoDataCenter says the data center meets Uptime Institute's Tier IV requirements – although it doesn't look like the company plans to obtain any certificates to confirm this. It does, however, plan to achieve LEED Platinum certification.
Sweden is an attractive location for data center developers thanks to its cold climate, political stability, rich renewable energy sources and low electricity prices.
The facility in Falun is just a pilot project – Schedin told DCD that the company is already developing a second site, based on the same design principles but with a total power capacity of around 6-7MW, and could start construction as soon as spring 2019.
"Interest in the facility in Falun is enormous, and we have had visits from customers around the world even though it's not really ready," added Lars Thunell, chairman of EcoDataCenter's Board of Directors. "Everything points to it being a major success, and we are therefore counting on the need to build a large number of facilities of this type, both in Sweden and abroad, to successfully meet interest and demand."