Power management company Eaton has extended its long-standing 5PX series of UPS systems, with a new unit designed for distributed Edge applications.
The 5PX G2 UPS adds more connectivity, in the form of a Gigabit Ethernet card, backed up with strong cybersecurity, and is aimed at environments like from medical facilities, university campuses, and retail offices.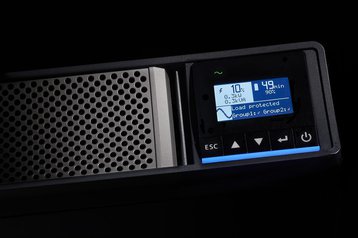 "As businesses across industries shift critical IT functions to a distributed model, it becomes more critical than ever to protect against downtime in these environments," said Rusty Scocia, product line manager, Eaton. "By bringing new connected capabilities to the 5PX G2 UPS, we're giving these users an easy way to protect servers, switches, storage, and other essential equipment without the need for on-site IT support. And, with enhanced cybersecurity protection, users have greater peace of mind that essential equipment is safeguarded from threats."
When the 5PX was launched ten years ago, Eaton touted its communication skills, which gave it the ability to alert virtualization software if any connected server got into trouble. Now, with a Gigabit card, the 5PX G2 can link into Eaton's BrightLayer data center software suite, giving real-time management and control.
The BrightLayer management platform launched in October 2020, including modules such as Intelligent Power Manager disaster avoidance software and PredictPulse remote monitoring service.
Networking UPS systems sounds a great idea, but can add risks, because a connected UPS is potentially vulnerable to cybersecurity attacks. Potential attacks on mechanical and electrical equipment are often overlooked, but can bring down data centers or even cause physical damage to them. The Eaton Gigabit network card has been certified to meet both UL and IEC cybersecurity standards - Eaton claims it is the first UPS connectivity device to meet these standards.
The new UPS also has other improvements, including an easy startup configuration wizard and the ability to receive mass firmware upgrades while still protecting connected equipment. A three-color LED status bar gives quick clear diagnostics: blue means all is well, yellow means attention is needed, and red means there's an urgent problem. The latest batteries have longer runtimes, and Eaton offers a three-year warranty and 24x7 tech support.