The Defense Information Systems Agency (DISA) has awarded Eaton a $10.7 million contract to upgrade its data center in Columbus, Ohio.
The company will expand dual power architecture for critical and backup power systems originally installed in 2010, add capacity to uninterruptible power supply (UPS) systems, and provide redundant sources of power as DISA increases its mission loads.
All about power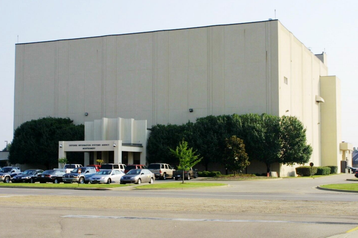 To be delivered by Eaton's Federal Mission Critical team are two large generator sets and associated distribution switchgear, panelboards and transformers, as well as two Power Xpert 9395 UPS systems. The company expects the project to be completed in the first half of 2018.
The contract was awarded by the US Air Force's Power Conditioning & Continuation Interfacing Equipment (PCCIE) office, which is responsible for providing and supporting the power conditioning equipment for all of the US government's sensitive electronic systems.
"This support includes, but is not limited to emergency and preventative maintenance on rotary and static UPS systems, paralleling gear, switchgear, flywheels, batteries, remote monitoring equipment, and battery monitoring equipment, Electromagnetic Interference (EMI) filters, Power Distribution Unit(s) (PDU) and other ancillary equipment," PCCIE said in a Sources Sought document earlier this year.
"The UPS systems may be single or three phase, in single or multi-module UPS systems configurations and are manufactured by various manufacturers."
In the document, which was made for market research purposes, the office revealed that it manages approximately 600 UPS systems worldwide - 536 in the contiguous United States, 23 in the "European Theater," and 41 in the "Pacific Theater."
Of those 600 systems, Eaton accounted for 87 percent, while Vertiv was responsible for 9 percent. The remaining 4 percent came from companies including, but not limited to GE, APC, MGE, Best, Tripp Lite, Pacific Power and Benning.
DISA as a whole "provides, operates, and assures command and control, information sharing capabilities, and a globally accessible enterprise information infrastructure in direct support to joint warfighters, national level leaders, and other mission and coalition partners across the full spectrum of operations."
While expanding the infrastructure of its Columbus data center, DISA is in the midst of a significant consolidation drive, as part of the Federal government's wider data center consolidation initiative.
Back in 2013, the agency closed down its 'Defense Enterprise Computing Centers' (DECC) in Dayton, Ohio, and Chambersburg, Pennsylvania, and in 2014 it shuttered its facility in Huntsville, Alabama and announced plans to cut eight more.
DISA's website lists that it still operates some 13 DECCs, but a June presentation by DISA's chief of computing ecosystem Tony Purvis stated that it operates nine "independently managed data centers" and three "other computing locations."
The data centers are located in:
Columbus, Ohio
Montgomery, Alabama
Mechanicsburg, Pennsylvania
Ogden, Utah
Oklahoma City, Oklahoma
San Antonio, Texas
St. Louis, Missouri
Germany
Bahrain
The "other computing locations" are in Chambersburg, Pennsylvania; Denver, Colorado and Fort Meade, Maryland. An additional 'support facility' exists in Pensacola, Florida.
Details on the scale of DISA's data centers are limited, but in a 2009 document, it revealed that its Montgomery data center offered more than 45,000 square feet (4,180 sq m) of raised floor space.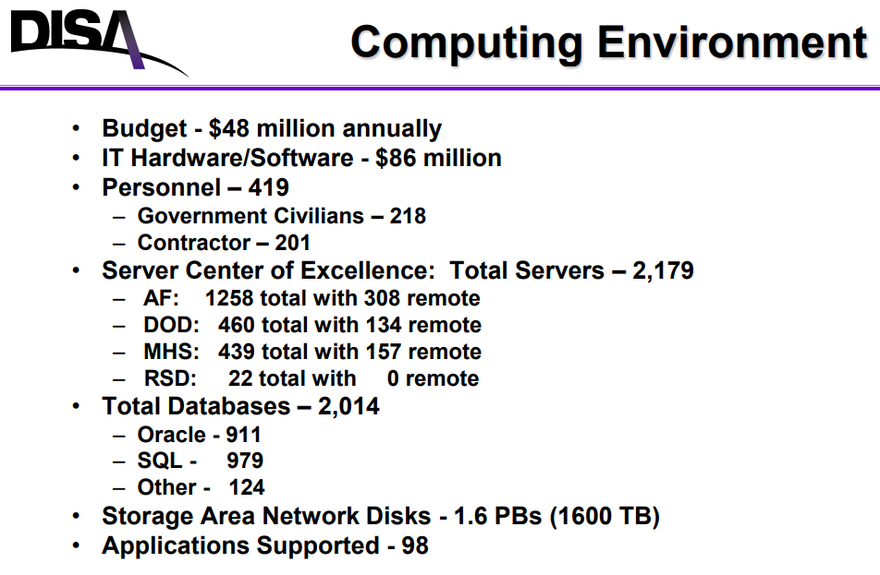 A 2016 presentation by Major General Sarah E. Zabel, the vice director of DISA, noted that the agency operates a $24 billion network, far outstripping IT spend in the private sector.