Power management company Eaton will manufacture or procure 360,000 reusable face shields on a contract for the state of Ohio.
The company said that it would separately donate "several hundred" face shields to hospitals. Meanwhile, data center company CyrusOne is giving $250,000 to Covid-19 relief charities.
We're in this together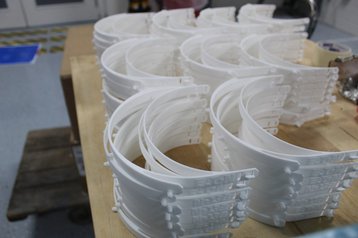 Eaton, which had revenues of $21.4 billion last year, collaborated with multiple hospitals and Cleveland's Manufacturing Advocacy and Growth Network (MAGNET) to optimize the face shield design for production.
The company is also working with Thogus, a local custom plastic injection molder, to rapidly produce the equipment at scale, amid widespread shortages of personal protective equipment among key workers.
"Ten business days ago, this project was just a concept. Today, we're moving forward with production and looking to expand further," Michael Regelski, SVP and CTO of electrical sector at Eaton, said.
"By leveraging our advanced manufacturing capabilities and strong network of partners, we're helping Ohio quickly respond to current inventory challenges and maximize accessibility of critical PPE resources for front line teams combating Covid-19."
At the same time, $1 billion colocation company CyrusOne will donate $250,000 to Feeding America, Member Food Bank, the North Texas Foodbank, and European-based charities. New CEO Tesh Durvasula will also donate $50,000.
"In this unprecedented moment, we all need to come together across the world to help people in need," Durvasula said.
"Our donation, on behalf of all CyrusOne team members, helps provide food and resources at a time of intense hardship. I am so proud of how passionately our CyrusOne family in the United States and Europe have responded to help our local communities in Texas and around the world."