Wholesale infrastructure specialist DuPont Fabros Technology (DFT) has broken ground on a 25.6MW data center in Elk Grove Village, Illinois.
The facility codenamed CH3 is DFT's third data center in the Chicago metro area, and will offer 160,000 square feet of white space once fully populated.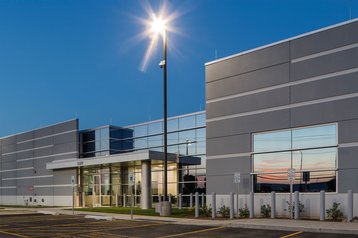 Pipeline of opportunities

DuPont Fabros is a real estate investment trust headquartered in Washington, D.C., that specializes in design, construction and operation of digital infrastructure at scale.
The company runs 11 data centers across three major US markets, which total 3.3 million gross square feet and 287 megawatts of available power.
DFT's latest development is located in Elk Grove, a suburb of Chicago, just a short distance away from the O'Hare International Airport.
The first phase of the project will offer 12.8MW of power capacity and is expected to be delivered during the first quarter of 2018. The second phase will double the available power, but no definite date for the expansion has been set.
The finished facility will feature eighteen computer rooms, complete with eighteen 1,600 kW rotary UPS in isolated-parallel configuration, and eighteen 2,250 kW diesel gensets.
"We believe demand in the Chicago market remains strong," said Christopher Eldredge, president and CEO of DFT. "Commencing the development of CH3 will provide DFT valuable inventory allowing us to compete for an attractive pipeline of opportunities in the Chicago market."