The annual RightScale survey of cloud adoption strategies has just been released - and it shows vendors making more of cloud solutions and Docker storming the gates of the enterprise.
The report reveals that adoption of private cloud solutions has increased from 63 percent to 77 percent since last year's report, driving hybrid cloud adoption up from 58 percent to 71 percent year-over-year since the 2015. 
The report also shows that 82 percent of enterprises have a hybrid cloud strategy in place, holding steady from 2015. In 95 percent of the organizations surveyed they are running applications or experimenting with infrastructure-as-a-service.
Cloud adopters are running their applications on multiple clouds and experimenting with an additional 1.5 public clouds. More than 17 percent of enterprises have more than 1,000 VMs in public cloud, up from 13 percent in 2015. Private cloud showed even stronger growth with 31 percent of enterprises running more than 1,000 Virtual Machines, up from 22 percent in 2015.
Enterprise business units are increasingly seeing the role of central IT flexing its muscles to set policies (up from 31 percent to 44 percent year-over-year), select public clouds (up from 34 percent to 42 percent), and select private cloud technologies (up from 35 percent to 44 percent). Following that trend 38 percent of respondents have now established approval policies for cloud, up from 30 percent who were said they had done so.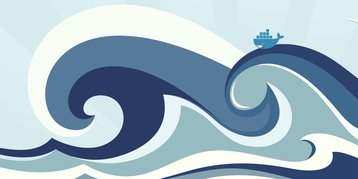 We're riding along on the crest of a wave
Adoption of Docker has more than doubled – in the words of the report: 'Docker spreads like wildfire, especially in the enterprise' at the same time as DevOps adoption has risen from 66 to 74 percent reaching 81 percent in the enterprise.
Docker adoption more than doubled to 27 percent vs 13 percent in 2015 with an additional 35 percent having plans to use Docker. In the enterprise sector those figures 38 percent plan to use it up from 29 percent last year.
While private cloud adoption grows across all providers VMware VSphere continues to lead – 44 percent of respondents use it as a private cloud. OpenStack and VMware vCloud Suite have both show strong growth this year but remain tied at 19 percent adoption overall.
VMware vCloud Suite takes second place among enterprises while OpenStack comes in at number two among businesses with fewer than 1,000 employees. Bare-metal cloud was included in the survey for the first time and is used by 15 percent of respondents. 
The RightScale annual State of the Cloud Survey involved a broad cross-section of organizations about their adoption of cloud infrastructure. The 1,060 respondents represent companies across the entire cloud spectrum.
Hybrid cloud holding its shape
Enterprises hold firm on hybrid cloud strategy. The percentage of enterprises that have a strategy to use multiple clouds held steady at 82 percent with 55 percent planning on hybrid. There was a slight increase in the number of enterprises planning for multiple public clouds (up from 13 percent to 16 percent) and a concurrent decrease in those planning for multiple private clouds (down from 14 percent to 11 percent).
Among enterprises, the central IT team is typically tasked with assembling this hybrid portfolio of "supported" clouds. The top priority for these central IT teams is to leverage hybrid cloud (29 percent), which aligns with the predominant strategy.