A former coal-fired power plant in Northwest Indiana could be turned into a hyperscale data center, as a group of developers are working on plans to build a million square foot campus, with its own associated renewable energy generation facilities.
Each data center on the site would span 100,000 square feet, and would be built incrementally in line with demand. Facilities would be equipped with solar arrays, as well as additional panels to be installed on the ground. Developers said that they would "likely" build wind turbines as well, and that they are even exploring the possibility of generating hydro power by installing turbines in Lake Michigan.
Ideal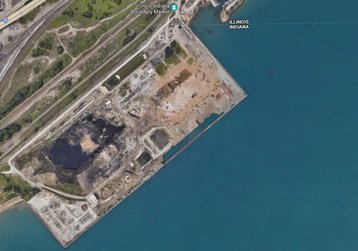 The plant was originally built in 1928, and, while it was still operational, had a maximum power capacity of 515MW – five times the amount needed to sustain the proposed campus.
What's more, reports Energy News Network, developers Tom Dakich and Peter Feldman, of Gemco Constructors and Indiana NAP respectively, wish to establish a technology start-up incubator – offering affordable space, shared offices and other types of support to nascent companies.
The project would also involve the construction of a greenhouse, which would recycle heat from the data centers' servers.
The peripheral initiatives – the renewable generation facilities, the incubator and the greenhouse – would be built in the first phase of the development, as per wishes of the local authorities, who want to reassure local residents that the project won't be home to a different kind of a "dirty" industry.
Between data center construction and operation, and running the incubator, the project is aiming to employ up to 300 people.
The site was offered to Amazon when the company was scouting out a location for its second US headquarters last year, but it was not shortlisted by the online retail giant. According to USA Today, analysts expect the company will ultimately choose between the Washington D.C. area, Austin, Boston or Atlanta.
It was thanks to this missed opportunity that Dakich and Feldman became aware of the property, and of its potential in terms of available space and the necessary infrastructure: the site sits on the shore of Lake Michigan, and remains home to several electrical substations – though these belong to local utility company, ComEd, and since the data center would provision its energy from NIPSCO, a deal would have to be reached.
What's more, the land was prepared by the owners and the mayor's office in the hopes of attracting Amazon, meaning it is ready for development.
The site is located fifteen miles outside of Chicago, but in the state of Indiana – hence the coal plant's name, State Line Energy - meaning that the project is entitled to hefty tax subsidies: approximately $20m, to be awarded both by the state and the city of Hammond.
While the property development firms behind the project say they have identified plenty of funding, they are reportedly still seeking "better" and "less expensive" terms from other prospective sources.