Data centres could be at risk from grime, which can cause power failures, and loss of data, according to a UK expert. 
Facilities need to have a regular schedule of cleaning to remove the dust and other contaminants that can clog fans and cause cooling systems to fail, but there are worrying signs that this is not being done, and that firms are not looking for the root cause of problems, according to technical cleaning firm 8 Solutions.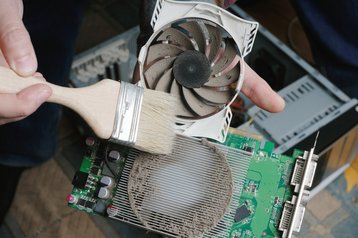 Good money after bad? 
This might sound like special pleading, but 8 Solutions, which describes itself as a "data center healtchare" business, has seen a spike in requests for emergency cleans, which it says could point to a worrying lack of planned maintenance.
In 2015, emergency cleans went up by 300 percent compared with 2014, but 8 Solutions' managing director David Hogg says this they are no substitute for scheduled cleaning: "Planned cleaning schedules are essential to maintaining the health of a data centre, and identifying issues before they occur."
Sites can become contaminated quickly during building works, so emergency cleans can have a role, but there is an ironic danger of over-cleaning, which can cause its own problems, he said: "Cleaning, when not properly conducted, can also cause an increase in contamination so it all needs to be very carefully planned and coordinated." 
A big technical clean can also remove contaminants without revealing their source. This source of contamination can then continue unchecked, resulting in a need for repeated "emergency" cleans, instead of eliminating the root cause. 
"Uncovering and discovering sources of contamination is a challenge," said Hogg. "It is not uncommon, for example, for a data centre to believe that the contamination comes from one source, to find – after testing – that the contamination stems from another source altogether, and one that the data centre management had never even considered."
Hogg recommends forensic analysis of samples as well as technical cleaning: "Technical cleaning of course has its place; but technical cleaning without recognising and understanding the source of contamination, is effectively throwing good money after bad."