Digital Realty Trust has agreed to purchase enough wind power to offset all of the energy spent in its colocation and interconnection facilities across the US.
The major sustainability initiative will see the company buy approximately 400,000 megawatt-hours of renewable power every year. This will reduce its annual carbon footprint by approximately 275,000 metric tons, comparable to taking 58,000 cars off the road.
Energy will be provided by the American subsidiary of E.ON, one of the world's largest owners of renewable power projects that generates nearly 5.2 gigawatts of renewable capacity.
Digital Realty has also issued a statement which details the allocation of proceeds from the company's Green Bond issued in 2015, with funds distributed among nine qualified development projects.
Wind of change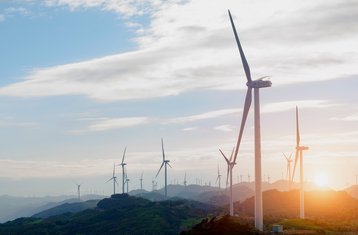 Digital Realty owns more than 140 data centers across 30 markets on four continents. The Real Estate Investment Trust (REIT) originally specialized in wholesale colocation, but has been expanding into retail operations following the acquisition of Telx in October 2015.
In 2015, Digital Realty procured 2.9 billion kilowatt-hours of electricity on behalf of its customers worldwide, and approximately a fifth of this amount was derived from renewable energy sources such as wind, solar and hydro.
Starting with the third quarter of 2016, the energy consumed at 112 data centers in the US will be completely offset by wind power – this does not necessarily mean that the data centers will be directly powered by wind farms, only that Digital Realty will pay for renewable electricity going into the grid as it consumes electricity going out of the grid.
"Now more than ever, the overwhelming demand for real-time data, enhanced agility and scalability for online applications is increasing demand for power consumption within the data center," said William Stein, Digital Realty's Chief Executive Officer.
"Digital Realty recognizes the importance of addressing our customers' growing demand for renewably powered data centers, and this agreement serves as another example of our deep commitment to sustainable and environmentally responsible business practices."
Digital Realty also reported on the progress of its Green Bond issued in June 2015 that raised $493 million. According to the terms of the bond, the money was due to be spent on 'green projects' and the company has now allocated the funds across nine data center locations that have been certified with LEED, BREEAM and CEEDA.
These include five data centers in the US, two in Australia, one in the UK and one in Ireland.
"Responsible investment that supports our sustainability initiatives aligns our activities with the needs of our customers, investors and the community," said Andrew Power, Digital Realty's Chief Financial Officer.
Other data center operators who have recently made large commitments to renewable power include Switch, which is funding 180MW of new solar power in Nevada, and Equinix, which is funding 105MW of new solar power in California.
To find out more about solar power for data centers, see the recent FirstSolar webinar.