Digital Realty has signed a new renewable energy deal to procure wind energy in Australia and offset its energy use in Japan.
In Australia, the colocation giant this week announced that it has signed a renewable electricity supply contract with energy retailer Origin Energy, contracting for wind power capacity that will see its portfolio in Australia match energy demand with renewable sources from 2024.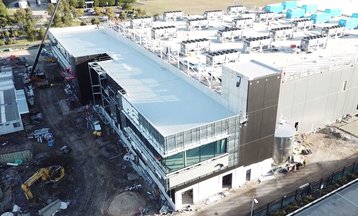 Digital Realty will be procuring energy from the Stockyard Hill wind farm, located about 150 kilometers outside Melbourne, Victoria.
The project, near Ballarat, commenced construction in May 2018, with the final turbine installation occurring in December 2020. The 149 turbines have a total capacity of 400MW.
Digital Realty's data centers in Sydney will be matched with 100 percent renewable electricity in January 2024 and its data center in Melbourne will be matched with 60 percent renewable in 2024 and increasing to 100 percent from January 2026.
Digital operates two Sydney facilities in Erskine Park to the west of Sydney; the first launched in 2012 and the two combined offer 22,000 sqm and around 25MW of capacity. The Melbourne site, located in the west of the city in Deer Park, opened in 2012 and offers 10MW across 94,000 sq ft.
James Magill, head of Origin Zero, said: "Digital Realty approached us seeking a renewable energy solution for their data centers in Australia and we were able to offer them a cost-effective option that matches their usage with wind power sourced from Stockyard Hill Wind Farm. We're pleased to help the company with its emission reduction ambitions."
In Japan, MC Digital Realty, Digital Realty's joint venture with Mitsubishi Corporation, will match the electricity used at the colocation data halls at its NRT10 and KIX11 data centers with '100 percent carbon-free renewable energy' through the purchase of FIT non-fossil certificates from MC Retail Energy.
Digital Realty has also completed the installation of solar panels at its SIN11 data center in Singapore. A similar solar energy project is underway at the company's SIN12 data center and is expected to be completed in the summer of 2023.
"As the leading data center provider, we are in a privileged position to lead the global data center industry in sustainable environmental performance," said Jon Curry, VP of operations, Asia Pacific, Digital Realty. "These projects we are announcing today are important milestones in our global transition to renewable energy and towards achieving our aggressive carbon reduction goals."