Digital Realty Trust has announced a second data facility in Singapore, which it expects to cost at least S$200M (US$149M). Located in Singapore's northeast region in Loyang, the new data center is redeveloped from an existing printing paper storage facility and will have a gross area of 177,000 sq ft (roughly 16,000 sq m).
Digital Realty currently operates a data center in Jurong East, which it acquired in 2011 as part of its expansion into the Asia-Pacific region. The company has grown in the region over the last few years, and now has data centers in Singapore, Hong Kong (TKO), and Australia, as well as a development site in Japan.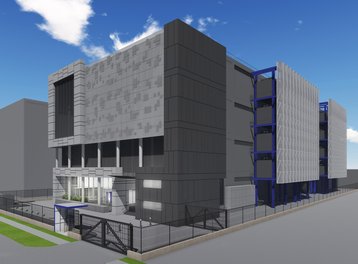 Dark fiber to Jurong
The new data center will be linked by dark fiber to Digital Realty's existing building at Jurong East, which is the home of various Tier 1 carriers and the Singapore Internet Exchange. The company says this will allow it to offer geographic diversification and increased options for diverse IT workload deployments in Singapore.
Importantly, the new data center will be compliant with the threat and vulnerability risk assessment (TVRA) guidelines of the Monetary Authority of Singapore (MAS), a set of specifications which range from cyber security to physical infrastructure designed to mitigate physical threats against data centers. In addition, it will also be designed to comply with the requirements needed to get a Green Mark Platinum certification under the new building category.
The new data center can provide up to 13.2MW of power, which makes it well positioned to meet the trend towards higher power requirements. At the moment, Digital Realty says that the current construction program provides for an estimated late 2015 delivery of the powered base building along with 3.2 MW in the first phase.
"Our first data center in Singapore marked Digital Realty's entrance into one of Asia Pacific's rapid expansion markets and enabled our global clients to enter the city-state and serve other regional markets with a trusted partner," said Daryl Dunbar, managing director Asia Pacific at Digital Realty.
"Our new data center expansion supports Singapore's efforts to become a regional data center hub and delivers the openness and agility that our global clients continue to want from us, as well as the broader data center industry, to accelerate their growth," he said.
In an email to Datacenter Dynamics, Dunbar emphasized that both data centers will connect to key networks on land and across submarine fiber networks, offering a neutral and open connectivity fabric for its clients to move data seamlessly across networks.
Dunbar also told us that Digital Realty has allocated an incubator space in its new data center to test innovative data center technologies, in collaboration with the Infocomm Development Authority (IDA) of Singapore.
We recently visited CenturyLink's SG2 data center in Singapore, which takes up an entire floor in Digital Realty's existing data center in Jurong East, and forms the basis of its plans for Singapore, Hong Kong and elsewhere.