Evry is the Nordics' second largest IT services provider - and still expanding . It needed a data center fast, as leases on some of its facilities were due to expire while others were below par. It set out to consolidate its 10,000 sq m of operations into a new facility with 4,200 sq m of white space in Fetsund, near Oslo. Evry had already developed a concept design for the new facility and wanted to consolidate its operations in a facility quickly to improve both operational stability and its bottom line.
Evry turned to DigiPlex to bring its plans to fruition and gave it a deadline of 15 months. The lease agreement included a challenging performance specification with a power usage effectiveness (PUE) of 1.1.
With time of the essence, DigiPlex developed and enhanced Evry's existing performance requirement for 4,200 of white space, located in two combined buildings, to enable it to be built quickly. It also provided an option for Evry to take additional capacity in future new buildings on the site.
An Evry penalty clause meant that DigiPlex would fund any additional energy costs if the PUE exceeded 1.2 or greater,with DigiPlex paying for the cost of the additional power consumed over the life of the 20-year lease.
Gisle Eckhoff, CEO of DigiPlex, said : "We were determined to meet the business and technical goals which Evry presented us with and they were particularly stringent. They needed a very low PUE within a strict sustainability framework – which we were able to fulfil."
The budget was also challenging. It required DigiPlex to design and deliver two data centers, to satisfy the client's challenging performance and space criteria, for a budget of US$59m in Norway, where construction costs are higher than some other European countries. DigiPlex adopted an innovative, multifaceted approach to ensure it delivered the data center on time.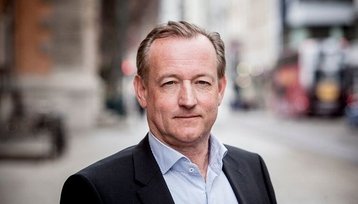 Evry's final surprise
Gisle Eckhoff, CEO of DigiPlex, said: "DigiPlex has a long history in this region – we have been going for fourteen years and have a high-quality customer base, so we knew we could produce the data center to specifications and to budget." However Evry had one more surprise in store – they wanted DigiPlex to supply the funding for the facility as well. Eckhoff said: "This was no problem for us since we are such a well-known company we were easily able to raise a bond to build the data center."
DigiPlex shareholders injected funds initially to enable a speedy start to the project. These were rapidly supplemented by funds raised by DigiPlex issuing a bond on the Oslo stock exchange - the first time a publicly traded bond has been used to fund construction of a data center. 
Hypoxic fire prevention systems
The brief called for an air-cooled data center. DigiPlex responded with the first application of its newly developed Air-to-Air indirect evaporative cooling technology (a DCD award winner in 2012), developed in conjunction with Munters, which is designed to allow the facility to run on free cooling from ambient air all-year-round to minimize energy consumption. The cooling system utilizes the naturally cool, moist Norwegian air conditions to deliver 'free cooling' which will save up to 25percent on operational energy. The system uses rain collected from the building's roof as evaporation water.
To maximise cooling efficiency, DigiPlex commissioned a study by the University of Leeds into the airtightness of server racks to help it select a rack that minimized the quantity of cooled air bypassing the servers.
To cut the scheme's environmental impact and improve resilience, rainwater run-off from the building's roof is harvested in a pond and used to supply the evaporative coolers. The brief called for an inert air fire suppression system. DigiPlex responded with a passive, low energy, environmentally friendly hypoxic fire prevention system (which works by starving potential fires of oxygen).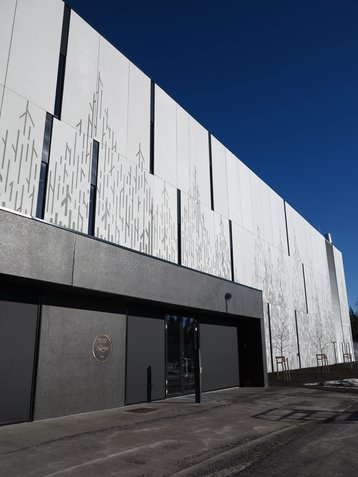 A data center of two halves
DigiPlex designed the data center as two independent halves, which are linked so data replication/mirroring can run between the two. The entire complex will be built in six phases and should be completed in April 2016.
Evry's servers were migrated from its existing data centers to its new facility in stages. On completion of each phase, the engineering services are tested by DigiPlex to prove their performance. 
DigiPlex worked with Munters to mimic the part-load operating conditions for in Munters' climatic simulation chamber at Spa, Belgium. This simulated all possible combinations of indoor and outdoor climate, including extreme summertime and wintertime conditions, which proved the units' capability to perform as designed.
Electricity sourced from 100 percent hydro is used to power the energy efficient facility: "Evry's data center will be world class as far as the environment is concerned," said Tine Sundtoft, Norway's Minister for Climate and Environment when she opened the facility. "We need IT industries like this if we are to meet our goals of reducing greenhouse gas emissions while maintaining economic growth," she added. 
The build exceeding Evry's minimum N+1 infrastructure specification and a 2n UPS power distribution topology.
DigiPlex had to develop a design that could be built fast, but which was robust enough to function for the 20-year duration of the service agreement. Working with the contractor it developed a construction solution using precast concrete, which allowed the building components to be prefabricated in a factory while the groundworks were underway on site. In addition to being fast, the solution had the advantage of being a technique with which the contractor was already familiar and it was independent of Norway's weather, which helped minimise programme risk.
While the contractor was erecting the building's shell, DigiPlex refined the scheme's engineering design. 
Eckhoff said: "We were delighted win this very prestigious DCD Award. As a company we seek to attain the highest standards we can for all our clients and when we win accolades for our efforts we make a noise about them. We have already sent out direct mails to potential customers and will be using it in our marketing campaigns next year. And when we win another DCD award in 2016 we will do the same!"