Scandinavian data center operator DigiPlex has opened a new site in Norway, announced in 2013. The energy-efficient site uses Norway's renewable energy, has a PUE of 1.1, and was built with a novel funding method - publicly traded bonds.
The site, at Fetsund just outside Oslo, was built for anchor tenant, Norwegian IT services company Evry, and is powered by renewable energy, as well as using best practices for efficiency. It was opened by Tine Sundtoft, Norway's Minister for Climate, along with the local mayor John Harry Skoglund.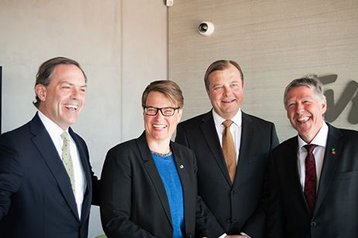 Funded by bonds 
DigiPlex says the site is the first in the world to be constructed using fiunding from the issue of publicly traded bonds, instead of equity or bank debt.
The company raised NKr500m ($84m) on the Oslo Stock Exchange using floating-rate notes - the first such bonds issued by any European data center for any purpose, Digiplex says. 
Bonds let DigiPlex keep more control, and the option was only available because of the specifics of the project: "DigiPlex was able to use this innovative financing because of its outstanding track record, and the scale of the agreement for Evry to use the data centre," says its release.
Evry has committed to using 4,200 sq m (about 43,000 sq ft) of IT space, served by 11 MW of power, for 21.5 years. The site has a total capacity of 18MW at the moment, but can be expanded as there is vacant land to build on. 
Though its headquarters are in London, DigiPlex's data centers are in Sweden, Finland and Norway, where it now has three sites, making it the largest owner and operator of data centers in the country.  
"It is good for the climate to have such data centers located in the Nordics" said Sundtoft, reminding the audience of Norway's virtually 100-percent renewable energy supplies. "We would like more of them as they can become the foundation for a new industry. We can become an exporter of environmentally friendly data services."
Sundtoft described Norway as the "green battery of Europe" and urged it to become "the green data center of the world,"  thanks to its climate as well as its power supplies and political stability.
The Fetsund site is spread across two three-storey buildings, with a power usage effectiveness (PUE) of just 1.1, achieved using DigiPlex's Air-to-Air free cooling system to reduce energy consumption by about 25 percent. It also features DigiPlex's De-Ox fire reductions system which lowers the oxygen within the server room.