Dell would not say anything about its proposed $67 billion merger with EMC, but launched a number of products for data centers at its annual DellWorld event in Austin Texas. 
The company launched products from its Datacenter Scalable Solutions (DSS) unit, set up in August to supply no-frills servers for telcos and other service providers. These strip down the design, but don't comply with Open Compute Project standards, because Dell says the demand is not there. It also launched high-end storage arrays including an all-flash system with a low price-per-Gigabyte, a rapid recovery backup service, and some dense hyperconverged appliances.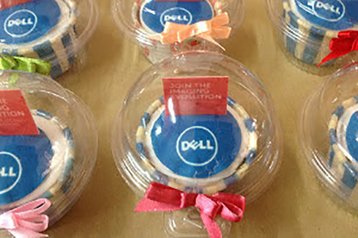 Standard, but not OCP
There are three servers in Dell's DSS product family: the DSS 1000 is a 1U version, the DSS 2000 is 2U high, each available with different configurations, while the DSS 7000 is a dense storage server based on the XA90, which can pack 720Tbyte in a 4U chassis, using up to 90 3.5in hard drives and two 2-socket servers.
These are no-frills "minimalist" servers designed for large scale customers (the minimum order is 24) but they are not Open Compute Project (OCP) compatible, because there is not much customer demand for OCP products, said data center marketing director Robin Kuepers.
"OCP is a great initiative, but there isn't a huge incentive to take it to the next level," Kuepers told DatacenterDynamics at a parallel London event. Similarly, these servers are not built to VMware's EVO:RAIL designs, because "hosters aren't interested. EVO:RAIL is for enterprises."
The DSS products are available worldwide and actually made (or at any rate assembled) in Dell factories, with a level of support that wouldn't be there for true "white label" boxes, said Kuepers, taking a swipe at "our rival" (clearly HP) who has done a deal with FoxConn to create a range of servers for web-scale customers. 
The Dell Storage SC9000 storage array controller, is a rebrand and upgrade of the Compellent product range and based on the latest PowerEdge server. It includes an all-flash option wich a price of $0.65 per Gbyte, including the array, software and three years of suport - which Dell says is the lowest cost available. It holds up to three Petabyte, and offers more than 385,000 IOPS, said Paul Harrison, director of storage for Dell UK. 
Dell also rebranded its AppAssure backup product as Dell Data Protection (DDP), launching two versions of the software. Rapid Recovery takes snapshots up to every five minutes, offering "near continuous data protection", said Dell's Fabio Invernizzi, director of data protection for EMEA. Its backup powers penetrate within the virtualized servers, thanks the exciting-sounding vRanger technology. Invernizzi also offered protection for endpoints with DDP Endpoint Recvery. 
Finally, new XC hyperconverged appliances expand the company's software defined storage (SDS) offering, with the XC6320 holding 44Tbyte in a 2U space. And Dell's services arm launched a deployment-assistance service called ProDeploy. 
Most of this is available now, but the Rapid Recovery service won't be there till later this year, and the XC6320 box isn't available till November.