Dell Technologies has launched PowerMax, an NVMe storage array family that it claims outperforms any other all-flash array on the market.
According to the company, a single deployment of PowerMax 8000 can deliver up to 10 million IOPS and bandwidth of up to 150GB per second – although reaching this would require two full racks of hardware.
PowerMax can be seen as a successor to the venerable VMAX product family, which can trace its origins back to 1990 – EMC launched the first all-flash VMAX in 2016, shortly before the storage giant was acquired by Dell.
The new arrays were showcased at the Dell Technologies World 2018 conference in Las Vegas earlier this week.
You look familiar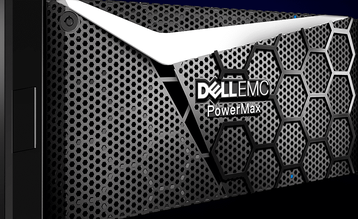 Like other NVMe arrays, Dell EMC's PowerMax plugs solid state drives (SSDs) directly into PCIe slots, thus offering considerably more speed than can be obtained from either SATA or SAS ports.
So far, two arrays have been announced: PowerMax 2000 and PowerMax 8000.
The devices run on PowerMax OS, a new storage software suite that enables both inline deduplication and compression, helping customers squeeze much more data onto the arrays.
The software also features a machine learning engine that uses predictive analytics to optimize flash memory for modern workloads.
Dell Technologies says PowerMax was architected to be future-proof, and will support emerging storage technologies like storage class memory (SCM) and NVMe over Fabrics.
"Dell EMC is delivering the modern data center innovations that our customers require, with new solutions that are engineered using future-proof technology to take on the data center challenges of today and to support the next big thing that our customers are imagining for tomorrow," said Jeff Clarke, vice chairman for Products & Operations at Dell.
Both PowerMax 2000 and PowerMax 8000 are available immediately.