Dell is expanding its networking portfolio as campus networking (i.e., groups of Local Area Networks) becomes more and more complex and data center bandwidth comes under increasing pressure.
Dell has introduced what it calls unified-campus architecture powered by the new Dell Networking C9010 Network Director switch and companion C1048P Rapid Access Node. In the data center, Dell has introduced the Dell Networking S6100-ON, combining multi-rate connectivity and open networking.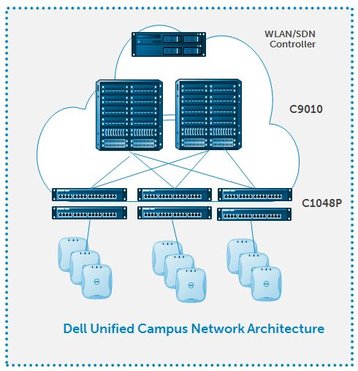 The Dell Unified Campus
"At Dell, we're taking a holistic, end-to-end approach to networking from connecting server storage and workloads together in the data center to connecting desktops and mobile devices in the campus," said Tom Burns, vice president and general manager, Dell Networking and Enterprise Infrastructure. "We're excited about these new products and capabilities and the new levels of simplicity and flexibility to help our customers become future ready."
New Campus Network Architecture: Powered by the Dell Networking C9010 Network Director and C1048P Rapid Access Nodes
The new architecture is designed for use in mid- to large-scale campus environments looking to improve performance and simplify network management. The architecture provides a single management view for the entire campus from access to core. Dell claims that this single point of control for managing quality of service, policy provisioning and software upgrades. It can also be used a console for programming software-defined attributes. Using industry-standard protocols the new Dell campus architecture can be jumpstarted by re-deploying Dell Networking N-series switches as access nodes.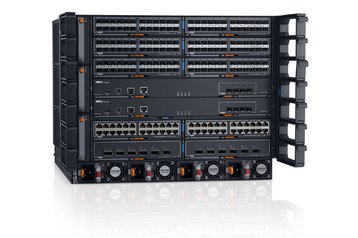 The Dell C9010 Network Director 
The new Dell Networking C9010 Network Director is a modular switch and is the first platform based on the new Dell campus network architecture. It delivers scalability for up to 4,000 virtual ports managed centrally, support for 10 and 40 gigabit Ethernet (GbE) now, and a tool-free upgrade to 100GbE if needed.
The C9010 can be deployed as a traditional campus switching platform without the Dell Networking C1048P Rapid Access Node and used to aggregate legacy switching platforms.
Dell claims that the C9010, when paired with the C1048P Rapid Access Node, will new levels of simplicity and scalability to the campus.
The Dell Networking C1048P is designed to extend the capabilities of the C9010 Network Director by providing enhanced power over Ethernet as well as user access and connectivity back to the C9010.
 The C1048P can be deployed either stand-alone or in a stacked configuration, and can be introduced at any time to the new architecture. Dell N-series switches within current customer environments can also become access nodes via a software download shortly.
John Fruehe, senior analyst, Moor Insights & Strategy said: "These products insert new capabilities into a relatively complacent networking market where Dell is using software-defined networking and open networking to challenge the prevailing networking norms. The multi-rate capabilities will give data center customers more opportunity to consider these products and its campus focus will help Dell break into new areas along the edges with minimal disruption, a smart move in a conservative market like networking."
New Dell Networking S6100-ON multi-rate modular in-rack switch
As the latest addition to the S-Series family of data center switches, the Dell Networking S6100-ON combines multi-rate connectivity with chassis-level modularity and open networking. Through multiple expansion modules, customers can deliver various combinations of port speeds ranging from 10 – 100GbE with both QSFP28 and CXP port choices for flexibility in deployment. The S6100-ON is ideal for virtualization, cloud and big data analytics environments.
The Dell Networking C9010 and C1048P will be available in October and the Dell Networking S6100-ON will be available in the first quarter of 2016.