Dell EMC is set to launch the newest of its block software defined storage (SDS), ScaleIO.Next. 
Improvements on the former model include support for inline compression - which removes wasted space of fixed-block architectures - enhanced snapshot capabilities (these ensure data protection and recovery and enable enhanced applications availability), granular thin provisioning - meaning workloads are allocated on demand -  and seamless workload migrations between different types of storage pools.
Tamir Segal, ScaleIO Marketing Director told DCD that ScaleIO.Next will allow clients to "balance between performance and capacity."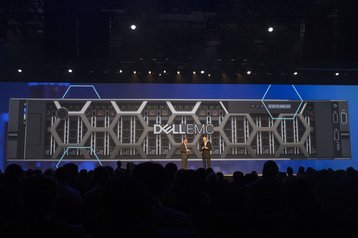 Optimizing All Flash
ScaleIO.Next works using the company's PowerEdge 14th generation servers and NvMe (Non-Volatile Memory Express), otherwise known as Non-Volatile Memory Host Controller Interface Specification (NVMHCI), a protocol developed specifically for SSDs which allows for the simultaneous processing of multiple transfer queues.
To illustrate the advantages of NvMe, Segal explained that "flash, up until recently was deployed in SAS and SATA.The problem with those protocols is that they were designed for a lower performing type of medium. Now, with the revolution of flash, you need to have a better interface that can exploit the full potential of flash. With SAS you are limited to up to 2.5-3GB/s. With NvMe, I think the number is about 12GB/s. - you can push more bandwidth on NvMe." 
"It allows a better utilization of flash. It's why we believe it is going to be very successful." 
ScaleIO supports NvMe as well as supporting other interfaces, meaning clients will be given the option of deploying the hardware of their choice. 
Amongst these options is ScaleIO Ready Node, a "preconfigured prevalidated hardware" service which will see ScaleIO deployed oa PowerEdge server, in which Segal states the software will be "optimized." 
Ready Node too has seen improvements in terms of automatic management services, which now allows for converged deployment - meaning the application can run alongside the storage services, or they can do so separately, and have servers dedicated for applications and servers dedicated for storage.
Another option is the VXrack X, which is also preconfigured and prevalidated but also comes with network, compute and ScaleIO software. "This may be the easiest way to consume ScaleIO, next to buying your own hardware." 
ScaleIO.Next will be available by the end of the year.