Virtual hosting services company viLogics is working on edge data center kits to help the American Red Cross (ARC) respond to emergencies.
The so-called portable technology kits (PTK) will be used in the 300,000 disaster relief instances the ARC responds to each year, Brian Yanni, decision support and business planning director at the ARC told the Dell EMC World event in Las Vegas. Providing 40 percent of the nation's blood transfusion supply, ARC has to have "scalability and flexibility of deployment", said Yanni.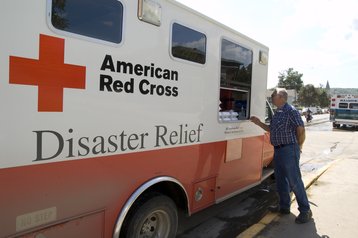 Blood banks to your door 
The kits will allow the ARC to react to emergencies rapidly and bring resources close to where they are needed. 
The PTK will either be a two wheel or a four wheel cart (limited in weight and size by FDA standards) and will contain the necessary technology to support a mobile IT environment including connectivity and communication. It will iunclude LTE wireless, onboard compute and a three node cluster, providing "availability, a mobile response point", where staff can coordinate and log blood transfusions. 
As well as providing a virtual desktop infrastructure (VDI), the ARC will use IoT tags to track blood from donation point to its receiver, which will ensure that if a contamination alert arises it can safely be "taken off the shelf", said Yanni. The organization will also create VR simulations of disasters to train staff and for fundraising purposes. 
SSD for VDI 
The technology kits will rely on Dell EMC's XtremIO platform, the company's latest all-flash scale out array, the second version of which, XtremioIO2, was unveiled as part of a series of product and service launches at Dell EMC World. 
According to Chhandomay Mandal, Dell EMC's director of marketing for storage, the SSD-based system has undergone significant "software driven performance and efficiency improvements" since the launch of its first version in 2015.
It features Inline all the time deduplication - which consists in the automated removal of redundancies from data when or before it is written onto a backup device - and was designed for purposes such as VDI. 
It has multi-dimensional scalable hardware, meaning resources can be assigned based on varying application requirements. 
It also reportedly has seen Integrated Copy Data Management iCDM use case enhancements (as opposed to traditional CDM), meaning primary data and copies can be stored on the same all-flash array for the sake of efficiency.