At the first big conference since Dell Technologies merged with EMC in September last year, the company announced the 14th generation of its PowerEdge servers, which contain plenty of data center related updates, and are due to be delivered this summer.
Designed with applications in cloud, analytics and software defined data centers in mind, the servers,  based on Intel Xeon processors, feature an extended range of APIs and the company's hardware management solution, OpenManage. The range has a 1900 percent increase in Non-Volatile Memory Express (NVMe) (flash) storage compared to its predecessor, which should improve application performance and response time. It also features a one click basic input/output system.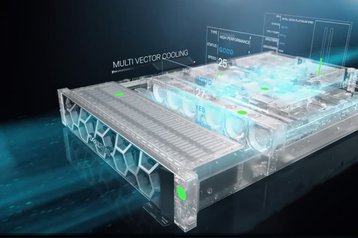 Streamlined and automated
Systems management is consolidated on a virtualized data center console, allowing for server management, data center monitoring, troubleshooting, maximizing uptime, remediation and power efficiency and compute density. Features include OpenManage Enterprise, an update on the iDRAC 9 troubleshooting system, remediation systems ProSupport Plus and SupportAssist and automated vector cooling. 
In terms of security, several features are designed to prevent data breaches: System Lockdown prevents configuration changes which could lead to vulnerabilities, and cyber attacks are blocked by SecureBppt, BIOS Recovery capabilities annd iDRAC RESTful API. The System Erase feature is supposed to protect privacy by wiping user data when a server is retired. 
The server has a streamlined front and hemmed edges (supposedly for the sake of airflow and decreasing use of paint for environmental purposes) and comes with a handheld smart device for configuration and monitoring. Airflow through the system is optimized by automatic airflow controls. 
Further product specifications are yet to be revealed, but David Goulden, Dell EMC president stated that "the rack scale capability will be the core of our 14th Generation. As the industry moves towards the software defined data center, we are exceptionally well positioned, and our historic strength is an advantage."