Dell EMC will be selling servers equipped with direct contact liquid cooling systems, supplied by Canadian vendor CoolIT.
The liquid cooling specialist offers four options for data centers, three of which use liquid to liquid heat exchangers, and one with a liquid to air heat exchanger.
Cool IT, high density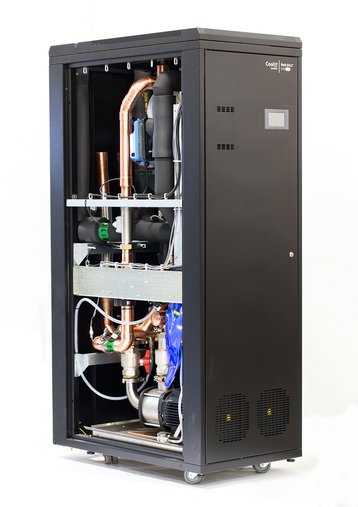 All four use a cold plate heat exchange system to supply the server's CPU with "warm" water (between 2°C – 45°C , or 35.6°F-113°F). The CHx650 and CHx40 both rely on coolant in a closed loop and have a cooling capacity of over 40kW, with the latter designed for a single IT cabinet.
The CHx80 can support up to 80kW of heat load while occupying 4U of space, able to cool upwards of 120 servers in a single cabinet. The AHx20, designed for facilities without plumbing, is equipped with a liquid to air heat exchanger, and has a 20kW cooling capacity. 
The company previewed the PowerEdge 14th generation servers at Dell EMC world, the company's first big conference since the Dell Technologies merger with EMC in September last year. Equipped with latest Intel Xeon processors, the servers were designed with cloud, analytics and software-defined data centers in mind, with an almost twentyfold increase in NVMe flash storage capacity over their predecessors.
Dell EMC states that by purchasing the servers equipped with systems from CoolIT, customers will benefit from easy integration and warranty compliance, which is not guaranteed when using third-party cooling units.
"Dell EMC is committed to working with leading innovators and researchers worldwide with the goal of expanding HPC to drive critical scientific and research advancement, as well as economic and global competitiveness," said Kash Shaikh, VP of marketing and product management for ready solutions at Dell EMC.
"Dell is proud to work with organizations like CoolIT Systems to empower our customers to get the most out of their HPC systems."
Patrick McGinn, VP of product marketing at CoolIT Systems, added: "As data center demands continue to rise globally, Dell EMC is at the forefront of delivering highly efficient, factory-installed liquid cooled PowerEdge servers.
"CoolIT Systems is proud to enable greener data centers through its patented direct contact liquid cooling technology and anticipates further success from the innovative collaboration with Dell EMC."
Last year, Dell revealed it was testing its own direct contact liquid cooling tech as part of Project Triton, but the current status of the initiative is unknown.