Submarine cable developer and operator Deep Blue Cable is expanding its upcoming pan-Caribbean network to include Colombia and Panama, along with additional landing points elsewhere.
Due to the extension and recent extreme weather events, Deep Blue Cable said that it has delayed the system's launch from late 2019 to Q2 2020. Route survey activities are expected to start early next year.
From NAM to LATAM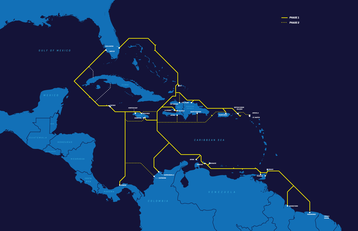 The cable system spans nearly 12,000km with initial landing points in 14 markets, including the British Virgin Islands, the Cayman Islands, Colombia, Curaçao, the Dominican Republic, Haiti, Jamaica, Panama, Puerto Rico, Trinidad & Tobago, and Turks & Caicos Islands.
It will have two landing points in the US, which will include what the company says is the first landing of a cable on the Gulf Coast of Florida.
The network will offer up to eight fiber pairs with initial capacity of 6 Tbps, and ultimate capacity of approximately 20 Tbps per fiber pair.
"With the planned extension of our subsea fiber optic cable system to Colombia and Panama, Deep Blue underscores its commitment to the long-term solution of providing advanced subsea connectivity across the Caribbean islands and to the Americas," Stephen Scott, CEO of Deep Blue Cable, said.
"The Deep Blue subsea cable network will have a profound impact not only on the communications ecosystem of the Caribbean, but also on the economic growth potential of an underserved region. Now more than ever, the Caribbean needs resilient communications infrastructure."