Internet Exchange operator DE-CIX has expanded its reach across the Atlantic with the establishment of two additional US bases in Chicago, Illinois, and Richmond, Virginia.
The interconnection service provider operates what it says is the biggest neutral network in the world, spanning from central Europe to central Asia, and passing through the Middle East, Eastern Europe and Russia, but until now it only had two points of presence in the US - in Dallas and New York.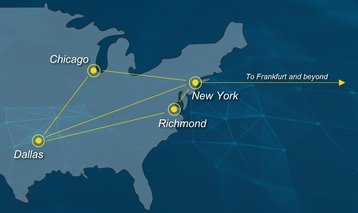 Keep local traffic local
Having installed the latest infrastructure, DE-CIX Chicago and Richmond-IX (RVA-IX), it has doubled its US footprint, and now oversees the biggest neutral exchange network in the country.
DE-CIX is available in 12 locations across the city of Chicago, including carrier hotels 427 S. LaSalle and 350 E. Cermak, and connects to 10 networks, with the aim of creating a second Chicago IX in future, to give customers improved interconnectivity between the USA and Canada.
The new base in Richmond, RVA-IX, is the second installation of an Internet Exchange in the city after the first was launched under the same name by a non-profit consortium of local ISPs and IT service providers in 2016. The purpose of the new installation, the company said, is to "take operational ownership" and "expand upon its interconnection capabilities," with increased access to services, better latency, and resilience.
Customers will gain access to peering and cloud connectivity services as well as to the world's largest carrier and data center neutral interconnection ecosystem which connects more than 2,100 networks across North America, Europe, the Middle East, India, and Southeast Asia.
DE-CIX Chicago, DE-CIX New York, and DE-CIX Dallas are interconnected with each other via a private network, and will eventually be extended to interconnect with DE-CIX Richmond also.
Scott K. Brown, president of Pixel Factory, one of the companies behind the first Internet Exchange in Richmond, said: "RVA-IX was chartered to 'keep local traffic local' and make 'the Internet' for our members and member's users perform better." Now, we have the opportunity to bring the content from around the world closer by becoming part of the largest Internet exchange in the world."
Ivo Ivanov, CEO of DE-CIX International, said the new exchanges give the company "four key markets fortified for interconnectivity solutions," which, on the basis of the New York and Dallas exchanges, "solidifies our position in the market as the leading neutral interconnection platform provider for Internet peering and cloud connectivity."