This morning, Schneider Electric has introduced a pre-configured system for eight to ten racks, with integrated power, cooling, cabling, software management and thermal containment: the HyperPod.
The new product is part of the company's EcoStruxure brand, which is dedicated to IoT, mobility, sensing, cloud, analytics, and cybersecurity, proposing, amongst other things, DCIM-as-a-service with its recently launched EcoStruxture IT. It is being formally launched at the DCD>Zettastructure event in London today. 
Speedy deployments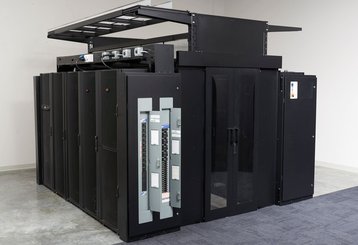 The HyperPod promises to reduce data center deployment time by up to a fifth, and allow customers to save between 15 and 20 percent in terms of costs and time. It is compatible with both 19" in and 21 in rack standards. 
Other vendors have introduced such products, including Panduit and Huawei, but true to form, Schneider has made its own a marvel of engineering.
The company's senior director of innovation, Steven Carlini, said the HyperPod is a response to the market demands. 
"Our customers wanted a streamlined and more cost-efficient way to deploy IT, one that keeps up with the pace of business, and we listened."
As part of its service, the company allows its clients to customize their pod before it is shipped, with a wide choice of cable trays, distribution cabinets, roofs, windows, blanking panels, doors, lighting kits and power raceways.