British thermal management expert EkkoSense has added live airflow analytics, new dashboards and tighter integration with IoT-enabled sensors to the latest version of its data center software platform.
EkkoSoft Critical 3.2 also introduces the new 'Zones of Influence' capability that can group racks into clusters for easier management and improved efficiency.
The software will be demonstrated at the DCD Zettastructure conference in London this week.
Knowledge is power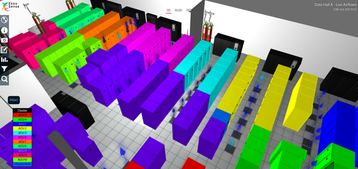 Nottingham-based EkkoSense develops 3D thermal visualization and monitoring software for data center operators and telecommunications providers.
The company aims to help infrastructure owners achieve better visibility into their environments and prevent problems that could threaten IT availability by identifying areas of the facility that are too hot or too cold.
The new version of EkkoSoft Critical adds a feature called 'Zones of Influence' that goes beyond thermal data to capture energy usage and airflow distribution. It can group racks into clusters that specifically match the cooling unit provisioning them.
The new software also estimates previously unattainable measures such as airflow within data center floor vents.
"More and more data centers are moving to the edge, so there's an increased requirement among data center operators and facilities management providers for a solution that can help them to monitor real-time thermal data center performance, optimize their cooling, and making sure they have the right power, cooling and space capacity strategies in place," said Stu Redshaw, CTO at EkkoSense.
"EkkoSense addresses the three essential elements needed here: access to an entirely new generation of low-cost IoT sensors, real-time 3D Visualization Software and room-building capabilities with EkkoSoft Critical 3.2, as well as a comprehensive Data Centre Thermal Optimization Services offering. By applying the real-time, rack-level machine learning data gathered by our IoT sensors to the EkkoSoft Critical spatial model, we're also now moving towards the kind of real-time decision-making and scenario planning capabilities that organizations will require to transition towards true AI-managed precision data centers," he added.