DatacenterDynamics is delighted to announce the short-list of finalists for this year's US & Canada Data Center Industry Awards. The DCD Enterprise New York show will culminate with the 2016 Awards Ceremony on 20th April.
The Awards showcase the pioneering spirit, creative thinking and the business acumen which is driving the data center industry forward. Whether it be recognizing cutting edge projects, or the shining stars of the industry, The DatacenterDynamics Awards are proud to celebrate and share these successes.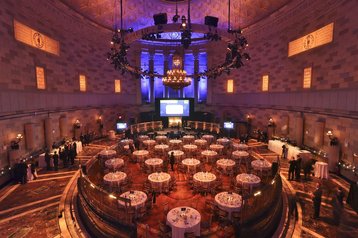 Awards ceremony dinner
The winners of each category will be announced at an Awards dinner and prize-giving ceremony held at 7th Floor Astor Ballroom of the Marriott Marquis, New York on Wednesday April 20 starting with cocktail reception at 6.30pm.
The DatacenterDynamics US & Canada Awards are part of a unique global series that provides worldwide recognition to outstanding individuals, teams and projects. In this complex and competitive market, there can be few greater accolades than to be awarded one these 'Oscars' through the rigorous judging of an independent panel of industry experts. Past winners have included many of the world's leading brands, and every shortlisted finalist shares recognition for their exceptional performance and contribution to the market.
American Electric Power
Centerpoint Energy
OANDA
CenturyLink
CyrusOne
DuPont Fabros Technology
Compass Datacenters
Critical Environment Future Thinking
Advanced Cloud Analytics LLC
Compass Datacenters
RF Code
Romonet
Energy Efficiency Improver' Award
CenturyLink
City of Gresham
VERT.com, Inc.
Data Center Transformation Project of the Year
Hewlett-Packard Enterprise Services
MITRE Corporation
NaviSite
CDM Smith
Silicon Valley Community Foundation (SVCF)
TaylorMade Golf
Toyota
 The winners of The Evangelist & The Outstanding Contribution Awards will be announced at the ceremony.No external nominations are accepted and there are no finalists.