PDU maker Gateview has launched, with a new range of PDUs called PowerLok.
The product has an improved screen over its rivals, an angled connector for the whip, and a better online ordering system, said the CEO John Day, at DCD>New York.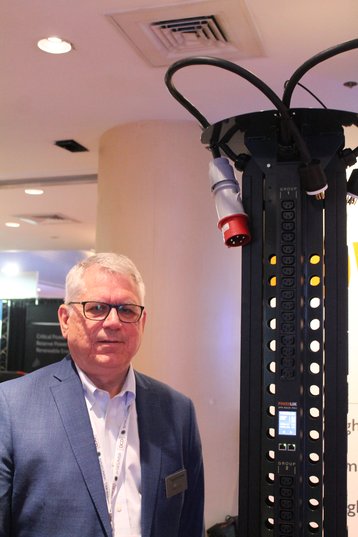 Disruption is opportunity
Why is Gateview launching now, when the PDU market is in the throes of consolidation, with makers all being bought up by giants such as Legrand?
Day told DCD: "That's exactly the right time to start up. When there's consolidation, there's disruption, and I've been through enough this enough times to know that when there's disruption there's opportunity." Previously a VP at Anord Critical Power, Day spent years at companies like FieldView, PDI and Schneider Electric.
The company was co-founded by Day and Mark Germagian, who previously worked at APC, Opengate, and was CTO of Geist, before starting investment firm Gateview Innovate in 2015.
The PowerLok PDUs will be available in October, and customers will be able to select some 17,000 configurations online and have the orders begin to deliver within four days, said Day.
The connections are soldered all through for reliability, and the whip connection at the end is angled for easier installation. The status screen rotates according to the orientation of the unit.