We're living through strange and difficult times. It can sometimes feel like the whole world is grinding to a halt, that society is unraveling, and that our only trajectory is downwards.
But that doesn't have to be the case. We will get through this difficult period if we come together - ironically, by staying apart.
Hopefully we will learn the value of collective action, and how it can reduce mass suffering. We will need to bear this in mind when it comes to a far greater threat: That of climate change.
For the cover of this issue of DCD>Magazine, we look at the danger climate change poses to data centers and telecommunications infrastructure, and try to work out when the industry should start preparing for what's to come. We talk to data center operators like Digital Realty, T5 and Data Foundry; to telcos like AT&T and CenturyLink; to climate scientists at Argonne National Lab and the State of Virginia; to infrastructure and risk experts at the City of New York and at the Department of Homeland Security.
---
Elsewhere in the magazine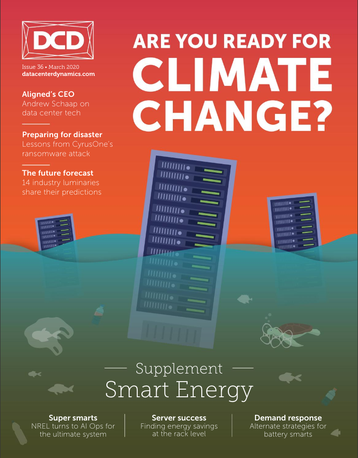 While we want most of the magazine to help provide a much-needed escape from the stress of the Covid-19 pandemic, it's also our duty to help provide you with information during this critical times. So we talk to SuperNAP about what's happening in Italy, and learn from the Uptime Institute what they recommend operators should do.
---
Aligned Energy's CEO
Andrew Schaap talks to DCD about running a colo with an eye to building its own proprietary tech. We learn about the fate of Inertech, and find out where the company hopes to head next.
---
Your money or your data
In this world of perpetual crises and controversies, it can be easy to forget major developments. But just a few months back, a large data center company was hit by a ransomware attack, and its response was less than perfect. We discuss the lessons learned from the CyrusOne attack.
---
Recycling buildings
I struggle to remember to use the right bins, but there are those taking far more economical measures: Recycling whole buildings. Andy Patrizio talks to those turning disued sites into bustling data centers.
---
Are you ready to dive into liquid cooling?
When's the right time to take the plunge? Are you ready to dip your toes into a cooling solution? Will this make a splash? We'll stop the flood of fluid puns there, and let you float off to find out more.
---
The smart energy supplement
The cover feature on climate change might have depressed you, but there is hope. There are those working to eke out further levels of efficiency from an already efficient industry. Learn about AI Ops at NREL, the true response to demand response demand, how servers are getting smarter, and more.
---
The decade ahead
Google's Joe Kava, CBRE's Zahl Limbuwala, Equinix's Craig Pennington, Compass Datacenters' Nancy Novak, and more look past these difficult times to the decade in front of us.
---
And more
Go read it and find out.
---
A different issue
I would be remiss to not mention that this magazine was produced under unusual circumstances. Journalists are fortunate that we can do most of our work remotely - but for magazines, it's a little trickier. Historically, for each issue, we have crouched together over early drafts of the magazine, shared feedback, and gone through each page carefully together.
This time that was not possible. Like many around the world, the last weeks were spent hastily shifting equipment back home so that we could work remotely. More than ever I am deeply grateful to the rest of the editorial team, head designer Harriet Oakley, and marketing manager Denica Alleyne, for their tireless work ensuring that we could deliver one of our best magazines yet, despite what is going on.
As an editorial division, we are committed to covering this sector throughout this time of crisis. We hope to produce more news and features than ever before on all the issues that impact this industry - not just Covid-19.
We hope you enjoy this issue of the DCD>Magazine.