American software vendor Nlyte has collaborated with IBM to integrate Watson machine learning into its data center infrastructure management (DCIM) product.
The new Nlyte Machine Learning is a 'cognitive' DCIM platform that promises the ability to predict upcoming issues, helping move server workloads before problems arise.
"When applied to the data center information conundrum, Watson has the ability to provide a cognitive search and analytics platform to connect and analyze all that distributed data to improve decision-making and business outcomes," explained Amy Benett, North American marketing lead for IBM Watson IoT.
"Behold, a new member of the data center team, one that never takes a vacation or your lunch from the breakroom."
Nlyte Machine Learning was announced at the DCD > Enterprise conference and exhibition in New York on Tuesday, and will be available to customers in July 2018.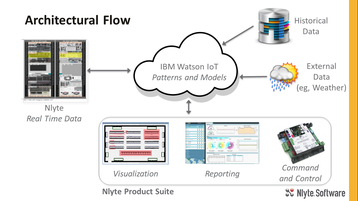 It begins
Nlyte has been developing data center management tools for more than a decade. It launched a cloud-based version of its eponymous flagship software suite in January 2014, promising faster installation and flexible pay-as-you-go pricing. The company introduced a hosting service for the software in 2017.
For its latest product, Nlyte worked with the Watson IoT group to integrate Nlyte Energy Optimizer (NEO) with IBM's Predictive Maintenance and Optimization (PMO) solution, a part of the Watson project.
Watson is an Artificial Intelligence (AI) project that was designed to analyze large quantities of raw information to look for patterns – a perfect fit for modern data center architectures that are becoming too complex to be managed by people.
The Nlyte software collects data points from power and cooling systems, thermal sensors and other networked equipment. This information is then processed using Watson's AI abilities to extract predictive models and send the analysis back to Nlyte for a visual dashboard display of potential vulnerabilities, for example server rows that are likely to get too hot in the near future.
"Regardless of the type of data center or business model, operators need to leverage analytics to minimize operating costs and understand the infrastructure where workloads are running," said Enzo Greco, chief strategy officer at Nlyte.
"Nlyte has always been the thought leader that brought together facilities and IT operations. The next step in this evolution is applying IBM Watson IoT's leading machine-learning capabilities to head-off potential power and performance issues while also optimizing workload infrastructure operations and ultimately workload placement."
Watch out for our interview with CEO of Nlyte, Doug Sabella, in the upcoming issue of the DCD Magazine – out next week.