DCD>Energy Smart 2018, hosted by DatacenterDynamics and Stockholm Data Parks, will hear how the US National Renewable Energy Laboratory (NREL), with Daimler Innovations Lab1886 and HPE are pioneering the use of fuel cells within data centers. The event will bring together data center and energy infrastructure professionals to explore energy efficiency measures inside and outside of the mission-critical environment.
Fuel cells developed for cars and trucks are now ready to power infrastructure, enabling greater usage of renewable energy, and making data centers less dependent on the grid, according to Dr Steve Hammond, Director of the Computational Science Center at NREL, who will be speaking at the event in Stockholm on 13 March:
"This collaboration aims to use automotive fuel cell systems in stationary power systems to demonstrate a sustainable and independent energy supply for data centers, which ultimately will help the industry to accelerate the transition to renewable energy generation and supply", says Hammond.
Since late 2017, NREL has been testing a prototype of a system built by Daimler, which is installed at NREL's Energy Systems Integration Facility (ESIF) data center. One of the most efficient sites in the world, ESIF had an estimated annual average power usage effectiveness (PUE) rating of 1.03 in 2016.
Not without challenges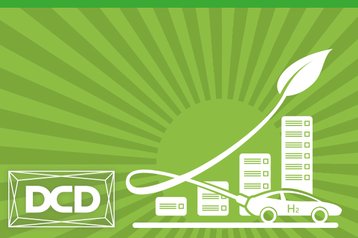 Alongside the hydrogen-powered proton exchange membrane fuel cells (PEMFCs) in use at NREL, other data center players such as Microsoft are testing the use of solid oxide fuel cells (SOFCs) which consume methane. "If fuel cells see widespread adoption, concerns over data centers' impact on the electric grid may become a thing of the past," said Sebastian Moss in an article covering the use of both kinds of fuel cells within digital infrastructure, in the February/March 2018 issue of DCD Magazine.
The technology is now mature enough for everyday use, but the use of hydrogen in the data center environment still poses a few challenges. As hydrogen is produced by electrolysis, it needs electricity from renewable sources if it is to be truly green. NREL is addressing this problem through the use of solar power.
"Automotive fuel cell systems bring forward a wealth of opportunities beyond the transportation sector, benefitting the energy, industrial and residential sectors as well as the mission critical environment. Industry leaders such as Microsoft are already betting big on fuel cell technology in the data center and we envision more big players will follow suit as this technology is maturing", said Merima Dzanic, Conference Manager, EMEA at DatacenterDynamics.
"We are excited to highlight this topic at an event where the two worlds of energy utilities and data centers will meet to discuss the future of sustainable digital infrastructures", adds Dzanic.
As well as the use of fuel cells in data centers, DCD>Energy Smart will also cover heat reuse and other energy efficiency initiatives within the digital infrastructure industry, outlining the latest approaches and tackling the challenges which face data center operators and the energy utilities in the digital economy.
The event will include IBM, Stockholm Exergi (former Fortum Värme), NTT, Google, Facebook, Amazon Web Services, Government of Sweden, OX Wind, City of Stockholm, DigiPlex, Hydro66, e-Shelter, The Green Grid, Interxion, JD, Government of Denmark, Baidu, Statkraft, Munters, GreenIT Amsterdam, Uptime Institute, Aligned Energy, Baselayer, MTU, Rittal, Vertiv and many more international digital infrastructure professionals.
Register today