ABB has shown its modular MNS-Up product which combines uninterrupted power supply (UPS) and switchgear technologies, at DCD's Zettastructure event in London.
MNS-Up avoids wasted capacity because the system can be scaled, ABB says. The system, announced earlier in 2016, has a lower footprint, better uptime and lower maintenance costs than conventional units, said Henrik Palgrem, head of ABB's European data center business at the event, in London's Old Billingsgate last week.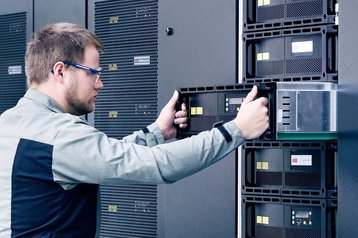 Rightsizing switchgear
"Data center managers need to address mismatches between IT and power facilities, limiting physical data center space," said Palgrem. "Overcapacity is just as serious a topic for data center operators as uptime, and data center power supplies need to grow step by step in ways that save space and energy and that make investments predictable."
MNS-Up contains a modular ABB Conceptpower DPA500 uninterruptible power supply (UPS) with decentralized parallel architecture, along with ABB MNS switchgear with Emax 2 circuit breakers. Modules connect through an internal bus bar. 
Modules for both switchgear and UPS can be safely exchanged without disconnecting power, Perlman said, allowing better scalability.
A 5.2MW MNS-Up system is in use in Switzerland by Green Datacenter, a 7,300 sq m (78,000 sq ft) facility in Zurich-West, and also at the University Hospital in Basel.