Vapor IO is putting its cylindrical rack enclosures at the base of cell towers to deliver colocation services to companies that need capacity at the edge of the network.
The scheme, called Project Volutus, is backed by wireless infrastructure provider Crown Castle, which has also invested in Vapor IO, taking an undisclosed minority stake in the company. Crown Castle has around 40,000 cell towers in the US, as well as a metro fiber network. The scheme will be piloted in two cities - yet to be announced - later this year.
Distributed edge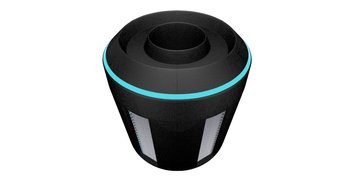 Vapor's distinctive cylindrical enclosures hold six racks (OCP or other standard forms) and can handle 150kW, cooled by airflow through the central "chimney". Placed at cell tower sites, linked into wireless networks and the Internet, they will create "the world's largest network of distributed edge data centers," Vapor CEO Cole Crawford told DCD at the Webscale event in San Francisco.
Customers wanting to deliver consumer services or Internet of Things applications can have resources which are only one mobile link away from customers, sensors and mobile devices, as well as directly connected to the Internet and other services.
The project will use the DC-powered Open19 racks defined by LinkedIn, and Intel's FlexRAN network and Multi-access Edge Compute (MEC) software libraries. The Volutus units will be built by contract manufacturer Flex, and bare metal cloud provider Packet will deliver services on them.
Crawford describes Volutus as "true cloud edge," distinguishing it from edge devices supported by conventional large clouds such as Microsoft Azure IoT Edge, and Amazon Greengrass - and also from "metro edge" data centers typically located in smaller cities. 
In true edge, says Crawford, workloads run at the physical edge, adjacent to end users, directly cross-connected to the wireless network. IP addresses are resolved at Volutus nodes, and all the services normally delivered in centralized clouds will be present at that edge location. 
Vapor also announced that former global technology head at Goldman Sachs Don Duet, has joined the company as president and COO.