In the latest issue of the DCD Magazine, we uncover how Google treats its data center contract workforce. Read our six-month investigation into low pay, harsh conditions, and labor violations.
We speak to contractors, Google employees, activists, and labor rights researchers about the secret life of the people that help the Internet keep running.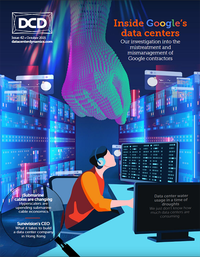 ---
Also in the magazine: Sunevision's CEO
Raymond Tong talks to Peter Judge about building a growing business in Hong Kong, despite renewable energy limitations, and a unique political climate
Data center water usage in a time of droughts
Just how many trillions of gallons of water do US data centers use? The industry won't tell us, but new research offers some idea of the vast scale
Revisiting Equinix's ransomware
How the colocation giant prevented a devastating attack
Submarine cables are changing
Hyperscalers are upending submarine cable economics
Processing the universe
Exploring the compute and networking needs of the world's largest radio telescope, the Square Kilometer Array
Take a bath
Why one small English council turned a listed building into a data center
Satellite attacks
Charting the history of physical attacks on satellite infrastructure - and what it means for space networks
The Colo & Cloud supplement
How colocation has adapted to the age of the hyperscale cloud, what that means for cyber security, and what we can learn from Dropbox's Magic Pocket
And there's more
The latest news, don't be as dumb as Facebook, and more
Stay tuned
Last issue, we told you Dan Swinhoe and Graeme Burton had joined the editorial team. Now I am really happy to announce that Claire Fletcher, formerly the editor of Data Centre Review and Electrical Review, has also joined the team. We're hoping to grow even more, and you can help support independent journalism by subscribing to the magazine for free today.
We're always looking to get better. Get in touch with your thoughts about the magazine, our coverage, or what we should cover next.
Thank you from all the team at DCD. Over the coming weeks, we have more features, supplements, ebooks, and magazines to share than ever before - and can't wait to see what you think.