DCD has launched its APAC regional event DCD>South East Asia, which will take place from September 11-12 2018.
The launch event featured a debate on changes to the data center space, with a panel session by John Duffin (Uptime Institute),Tom Duncan (CBRE), Christophe Maisonnave (Hewlett Packard Enterprise), Jose Castaneda (AirTrunk), Bernie Trudel (Asia Cloud Computing Association) and Johnny Zheng Zhiqiang (Huawei Technologies), giving attendees a peek into the topics and tracks that will be explored in greater depth at the conference later this year.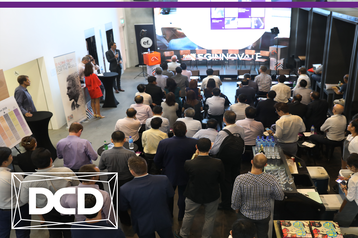 "Tonight, we witnessed the coming together of influencers in this market to discuss important issues such as energy efficiency, the rise of edge and hyperscale data centers and how technology is driving the direction and debate on infrastructure transformation in this digital era. This reflects how important such issues are to the data center community and we look forward to providing a platform to drive further conversation at DCD>South East Asia to equip the community to stay ahead of technology's curve," commented Tom Winter, managing director - APAC, DCD Group.
Photos from the launch available here.
The region's leading infrastructure event
DCD>South East Asia will cover the full ecosystem, from how data centers are being re-defined by the economics of digital business, to how IT and data center service delivery are being re-shaped. Supported by associations and statutory boards such as IMDA, IASA and itSMF, the two-day conference and expo will bring together 1,300 IT experts over 100+ hours of conference tracks across three halls, speaking sessions, interactive workshops and roundtables as well as networking sessions. The conference will also feature a DCD>Energy Smart Focus program where senior infrastructure design and sustainability experts will look at energy efficiency and security both inside and outside the data center, and embracing green technology for greater efficiency.
"The DCD Singapore event is fantastic – the networking, the dynamics and the buzz. I really enjoy attending because of that and it's a great chance to catch up with people and find out what's new in the industry", added panelist Bernie Trudel when asked about what he is looking forward to at the 12th DCD Singapore event later this year.
Sharing stories of innovation
The Asia Pacific branch of the Awards is back in Singapore with the 5th DCD>Awards Asia Pacific Gala Dinner and Ceremony being held in conjunction with the week's activities to celebrate the success of new technology and best practices adoption in Asia in the past 12 months. Entries are open until June 4, for more information on how to participate, view the Awards website here.