Data centers are enabling better government services, but there are still big risks in building and operating them, the DCD>Indonesia conference heard this week. 
Governments can use data to serve citizens better, but the sector needs data centers, which can be risky investments, said speakers at the event, held at the Ritz-Carlton Jakarta, Mega Kuningan. The potential drawbacks include floods, power and network issues.  
Data for good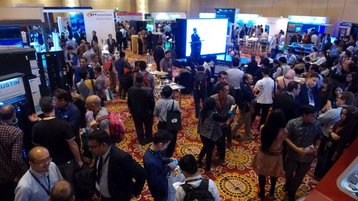 "The push for more transparent government is inevitable in Asia," said Muhammad Neil El Himam, the director for ICT infrastructure at the Indonesian Agency for Creative Economy. "[Not only can] data be used for better accountability, but it can also serve to improve service delivery through public participation and to promote cultural and economic innovation by citizens." 
The Open Government Indonesia initiative launched a public portal at http://data.go.id/ in 2014, as part of the larger movement to digitize government services. 
Data is a valuable asset that can be leveraged for good, said Neil. He acknowledged the risks but said that, if managed correctly, these can be converted into opportunities, and provide a windfall for organizations who are early movers.
Data center providers in Indonesia have an uniquely important role to play in the digital economy, said Neil, alluding to the need to house data within the country.
But while building a data center is easy, getting it done right is no walk in the park: "In Indonesia, land is cheap. Building a data center is cheap," said Alvin Siagan, vice president and director of NTT Indonesia, also a headline sponsore of the DCD>Indonesia. "Running a data center? [You] try!" he continued, to laughter from the audience. Indonesia has a whole different set of challenges, he said, ihcluding public demonstrations, low network quality and the possibility of flooding.
Other speakers included Leo Chen, a senior architect at Alibaba Infrastructure Services, who suggested data center builders should look out for low lantency and tax breaks. Jan Johansson of Tyco Fire Protection Products described how acoustic noise from fire suppression systems can damage hard disk drives.
"It's great to see how engaged everyone is at DCD>Indonesia," said Vincent Liew, managing director of APAC at DCD, thanking the industry players who attended and supported the event. More than 600 came to the conference.