Rittal and IBM are building and selling a set of standardized pre-populated data center containers, based on designs created for the giant Lefdal mine in Norway, which the pair are turning into a facility that could become Europe's largest data center.
The worked-out mine is a labyrinth of corridors or "streets", which has been equipped with power and water. It is due to open for business later this year, when Rittal proposes to park containers along those streets as customers order them. Meanwhile IBM is constructing a permanent conventional data center within three stories of space in the mine.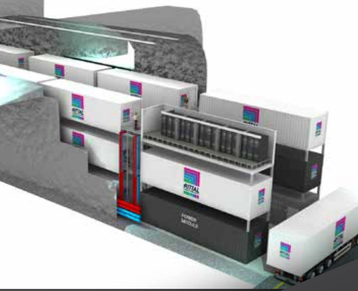 Minecraft for data centers
"We have designed a range of pre-fabricated containers for Lefdal, so customers can expand at high or low density," Andreas Keiger, Rittal's EVP of sales for Europe, told DCD at the DCD Enterprise event in New York this week. "They are manufactured in Germany and we can deliver them to Lefdal in a maximum of six weeks." 
Customers can extend their data centers block-wise with a series of high or low density modules, each of which contain integral power and cooling systems.
Rittal presented Lefdal as a solution to the problems caused by the collapse of the Safe Harbor rules, which could mean US firms need to rapidly acquire data center space in Europe for customers based there. Keiger believes that Lefdal's location in Norway will be a major draw, and the container model will provide a quick response to the crisis.
At the same time, these containers could be applied more widely, so Rittal will be offering twelve models which can be ordered from what is effectively a catalog. As an engineering partner, IBM has helped in the project, and will also be able to offer the range of containers. 
The mine itself is due to open later in 2016, and by the end of the year the IBM facility should be up and running with ten to twenty containers installed in the streets of the mine. Details are still to be announced, but Rittal's director of business development for IT Marcus Fischbach promised the site had "huge anchor customers" lined up with more customers in the pipeline . 
Update: Since our original coverage, we have heard from Rittal that the mine will now use remote-controlled electric vehicles to move the containers within the mine, to avoid diesel fumes, and will be offering both containers and modular security rooms. The first level to be built out will have a capacity of around 44MW.