Analytics firm DC Byte has launched a project management tool for data center operators buying and managing an international fleet of facilities.
The Project Planner tool puts project management and planning functions on a centralized dashboard. It includes built-in geographical information and lets a team examine all their data centers on one screen, planning opportunities to buy or build space across the globe. It has been included in a refresh of the DC Byte analytics platform, which gives access to data about data center markets and locations.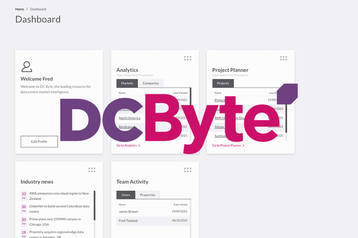 Goodbye timezones?
"Never before have we seen global teams working in such an aligned way," said Ed Galvin, founder and CEO at DC Byte. "Time-zones have practically become redundant as the always-on approach to business has been further fuelled by remote working.  Furthermore, the pace at which the data centre sector has responded to worldwide demands for more processing power has been phenomenal.
"The competition for land has never been fiercer, and business leaders are increasingly reliant on data to make educated and intelligent remote decisions, in a close to real-time environment.  Project Planner not only enables teams to collaborate in a more agile way but it also greatly enhances the level of detail they can explore from a single location, at the click of a button, which will ultimately lead to achieving greater efficiencies in an often time-pressured decision-making process."
Teams can add more overlays to their projects, to bring out aspects such as maps of fiber optic cables, or floodplains, aircraft flight paths and other potential hazards. It can also visualize the competitive landscape, and track projects as they progress through purchase.
It is available as either a cloud-based application or a local solution, which support security and data compliance regulations, says DC Byte.