US colocation provider DC Blox has broken ground on its new data center in Greenville, South Carolina.
Designed to Uptime Institute's Tier III standards in collaboration with general contractor Brasfield & Gorrie, the first phase of DC Blox's new Greenville data center is set to be completed by the third quarter of 2021.
For breaking data center news, features, and opinions, subscribe to DCD's newsletter
DC Bloc comes to Greenville, and buys more land in Birmingham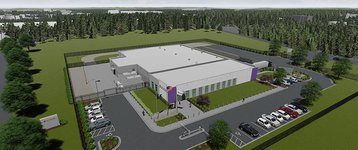 Based on an 8.5-acre campus in the Global Business Park, the final facility will have data halls with 54,000 square feet of floor space and 18MW of power. The data center will also feature 7,000 sq ft of secure storage and shared and dedicated office space.
"With the first Tier III-designed data center now under construction in South Carolina, businesses adopting digital transformation strategies are set to have access to the most reliable and interconnected facility in the State," said Mark Masi, Chief Operating Officer of DC Blox. "Whether it's a prime location, cloud storage, disaster recovery, or an expanded data center footprint, we are proud to bring this state-of-the-art data center campus to South Carolina. Now, even more companies can leverage reliable and efficient data center services and private, high-speed, low latency network access to cloud providers and applications at scale."
The company says the facility will create five permanent positions initially, along with an expected investment of over $200 million.
"DC Blox brings good-paying jobs and significant capital investment to Greenville County, and we are excited to see their vision begin to take shape with this groundbreaking," said Greenville County Council Chairman and Greenville Area Development Corporation Board Member Willis Meadows. "This new data center will help Greenville County accelerate economic growth and build on our reputation as a world-class technology destination. DC Blox is a welcome addition to our community."
DC Blox recently raised $187 million in long-term financing from Post Road Group and Bain Capital. The company also has data centers in Birmingham and Huntsville, Alabama; Atlanta, Georgia; and Chattanooga, Tennessee.
Last week, DC Blox subsidiary DCB Land Acquisition LLC purchased the remaining portions of the former Trinity Steel site next to its Birmingham, SC facility. BizJournal reports the company bought the 15.6-acre property from the Jefferson County Economic and Industrial Development Authority for $1.995 million.