A new national network that offers scalable cloud capacity to customers across Australia has been launched by Datacom.
The service allows users to increase or decrease on an hourly basis the amount of cloud capacity they are allocated, as well as offering monthly billing with no lock-in contracts.
It is operated using the company's nine Australian data centers, which are connected via tier-1 network carriers.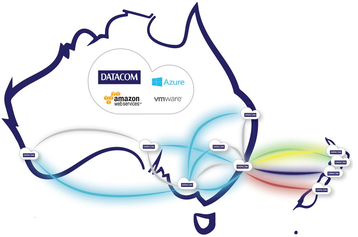 Cloud bursting
Customers using the network will be able to burst cloud and network capacity on Amazon Web Services, Microsoft Azure, Office 365 and VMware vCloud Air.
The network is scalable from 1 Megabit per second to 10 Gigabit per second. Datacom promises 99.95 percent availability.
Glenn Scown, Datacom Systems Australia's director, said: "We think this is a fundamental game changer for the Australian data centre market, and offers capabilities no one else in the market can fulfil.
"We guarantee availability and throughput, and the support of the world's leading public cloud vendors creates a robust infrastructure that can cater to any company's need, from small business to multinational."
A Datacom statement said: "Every aspect of a customer's IT infrastructure is customisable, producing scalable solutions in both speed and storage, and industry-leading reliability and security, while also catering to state data localisation laws".
Crossing the Tasman
Although the company has not revealed which carriers it is using, it said it will utilize more than one and aim to obtain the best prices for the customer by negotiating on a case by case basis. Arrangements with carriers will vary regionally, but will not be disclosed.
Datacom customers can choose to backup and restore from any of the company's nine data centers.
Customers will also be able to access additional Datacom services, including core switching, edge switching and firewalls.
Datacom also said it will continue to expand its network, and plans to cross the Tasman Sea and rollout to New Zealand where it already operates data centers in the near future.
The company's main competitors in the network service provider market include Telstra, Optus, Megaport and NextDC.