Data Grid Network has acquired a teleport outside Hannover, Germany.
Data Grid, a Commercis company, this week announced the acquisition of a majority stake in teleport operator Onlime GmbH and its TechnoPark facility between the towns of Hamelin and Aerzen.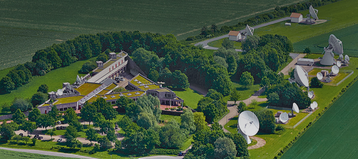 Terms of the deal were not shared.
The site will be operated by Commercis' Talia Communications unit. The companies said the site would provide Talia with a 'secure and central hub enabling further global expansions'. Data Grid provides a Multi Protocol Label Switching (MPLS) network to Talia locations.
"Talia... has been exploring opportunities for larger and more robust premises to continue its ambitious development objectives. Investing in Onlime's business, facilities, and its existing clients gives Talia an edge in its offering," the companies said.
The freehold facility, built by Deutsche Telekom in 1987, is one of the largest in Europe and includes almost 3,000 sqm (32,300 sq ft) of buildings, including a data center, network operations center (NOC), and technical labs. It hosts more than 50 satellite antennas from 15m diameter downwards in the C- and Ku-bands, as well as hosting customer-owned antennas including 11m TT&C and 9m gateway antennas for an 'international satellite operator'.
Previous owner CET Teleport acquired Stratos and the site in 2008 before merging with the Limeline Group in 2014 and seeing the group rebranded to Onlime.
Commercis chairman, Alan Afrasiab said: "The acquisition of Onlime GmbH and its facility has come at precisely the right time. With the staff of two teleports coming together, we will have more resources to ensure we can deliver on our plans for continued growth in both GEO and LEO sectors. The larger premises will help facilitate plans for a Green Data Centre, which we will be keen to begin development on soon".
Founded in 2020, Commercis is a holding company of several technology companies. As well as Data Grid and Talia, it owns African-focused satellite internet firm Quika, renewable energy firm Evonergy, and solutions provider Technology Exchange.
LexQuire Tax & Law assisted Talia, while the seller was advised by GÖHMANN Rechtsanwälte und Notare.
In other ground segment news:
LeoLabs is placing a new space debris tracking radar in Argentina. SpaceNews reports the S-band radar is located at Tierra del Fuego on the country's southern tip and is scheduled to be completed by the end of the year.
The company currently operates phased array radars in Alaska, Australia, Portugal, New Zealand, Texas, and Costa Rica, with aims to have a total of 24 sites in future.
Thailand's Office of The National Broadcasting and Telecommunications Commission (NBTC) has granted Globalstar authorization to operate a new ground station at Thaicom's Teleport Center in Patumthani province.
A new ground station to receive data from India-Bhutan SAT was inaugurated in Bhutan's capital Thimphu.
Launched by the Indian Space Research Organisation (ISRO) last year, the jointly developed India-Bhutan SAT is a nano-satellite for earth observation.
Laser communications firm Mynaric has been selected by the German government to help develop quantum communication technology under the QuNET initiative.
The company will help develop an optical ground station prototype capable of receiving quantum keys from ultra-secure satellite-based networks in space; an optical communications terminal for airborne high-altitude platforms; and optical technologies to enable quantum key and laser communication for fixed and mobile network nodes.
ThinKom has won a contract from the United States Air Force Research Laboratory (AFRL) to deliver a 'modular and scalable phased-array antenna solution' to support ground segment operations.