A data center project at the main US Antarctic base has been pushed back to 2023.
Located on Ross Island, the McMurdo Station research and logistics base is around 3,860 km (2,415 miles) south of Christchurch, New Zealand, and 1,360 km (850 miles) north of the South Pole.
First announced in 2018, the new Information Technology and Communications (IT&C) facility is a two-story, 11,000 square foot building set to house data center, communications, and ground station infrastructure.
Work on the building, referred to as ITC-Prime on the NSF site, began around February of 2019 and was due to span two Southern Hemisphere or "austral" summers and was originally anticipated to complete in late 2020. However, due to Covid-19, the completion date has been pushed back to 2023.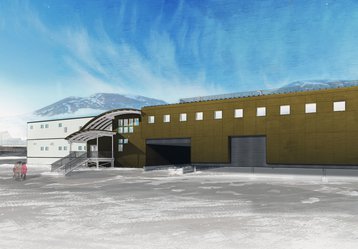 "The completion of the new McMurdo Data Center facility was impacted by the Covid-19 worldwide pandemic," Mike England, National Science Foundation media officer, told DCD. "Assuming continued Covid decline, NSF anticipates completing the facility by end of 2023 and data center functions would be moved soon after."
The new facility is being developed as an addition to the existing Science Support Center facility. The new addition consists of two floors, with the lower floor housing electrical power equipment, backup UPS systems, and the telecommunications entrance and termination to inside cable distribution.
The second floor will be the data center floor, consisting of a hot aisle-cold aisle configuration for three different caged spaces with open airflow between cages: one area for the NSF McMurdo Station operations data center, one area for the combined NASA Near Earth Networks and NOAA Joint Polar Satellite System ground station equipment, and a more general-purpose area to house equipment supporting science computing equipment and the McMurdo local broadcast media systems which uses MPEG transport over IP networks.
Leidos is the prime contractor for the National Science Foundation's United States Antarctic Program, with Datapath the subcontractor for support communication, and Parsons is the general contractor for Antarctic infrastructure improvement efforts.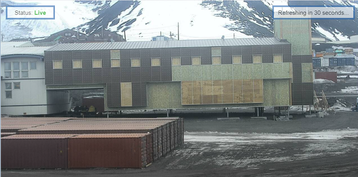 England said the new data center has been designed as a hybrid between a Tier 1 and Tier 2 in terms of systems redundancy and will utilize a smaller fail-over disaster data center supporting essential services in a separate building.
A platform on the roof will support a future satellite data receiving earth station (known as a Direct Readout Ground Station) for the recovery of environmental satellite data from the US National Oceanographic and Atmospheric Administration (NOAA) and European Organisation for the Exploitation of Meteorological Satellites (EUMETSAT) polar-orbiting earth observations satellites.
Patrick Smith, manager of technology development and polar research support at the National Science Foundation, said the current data center was established in the early 2000s.
"We will use this as an opportunity to do a tech refresh and modernize our infrastructure for local compute," he said.
The data center project is part of the Antarctic Infrastructure Modernization for Science (AIMS) project to replace obsolescent buildings – some of which date the late 1950s – and consolidate most station operations into a more energy-efficient, centralized facility with a much smaller physical footprint.
More in Construction & Site Selection