The popular Massive Multiplayer Online Role-Playing Game (MMORPG) Guild Wars 2 suffered an extended outage on Tuesday, due to a power failure in one of its European data centers.
The problem was made worse by the fact that the day was earmarked for technical deployment of the Path of Fire expansion, which introduces plenty of new game content, at a price of £25.99 for the standard version (and £69.99 for the ultimate version.) Path of Fire will be officially launched on 22 September.
Fire and brimstone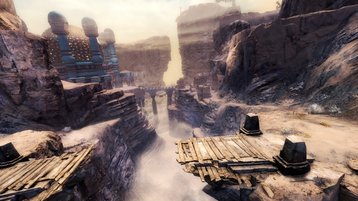 Guild Wars 2, developed by American game studio Arenanet, offers players a chance to journey through intricately designed fantasy realms, fighting both AI monsters and other players.
The problems started on Tuesday morning, after an unnamed data center in Frankfurt hosting Guild Wars 2 experienced a power failure, resulting in connectivity errors for European players and those in North America with "ties to European account database".
According to a statement from president of Arenanet and executive producer of the game Mike O'Brien, the power failure "knocked out" some of the networking equipment, leaving account holders unable to login.
Despite these issues, the company decided to press on with the deployment of Path of Fire for users in the US and Asia.
"I know that's far from ideal. But we have only three days to left to prepare for the demo, and with that schedule, it's important that we got the release out today so we have time to deal with any issues that arise. I appreciate your understanding," O'Brian wrote.
The 'demo' refers to the weekend when every player gets a chance to try Path of Fire for free, before deciding whether they want to pay for the expansion.
"Hmm I guess you will have to improve your disaster recovery plan…I really love that game, but I'm a little bit disappointed that a simple loss of electricity can impact you that way… you can do better," summed up Daniel Tremblay, one of the players, on the game's official Facebook page.