Almost the entire population of Azerbaijan lost Internet connectivity on Monday, after a fire broke out at a telecommunications facility owned by Delta Telecom.
According to network performance specialist Dyn, the outage affected services provided by NTT, Telecom Italia, Telia, Level 3, Rostelecom and Transtelecom, as well as mobile network operator Azercell.
The only way to access Internet services for nearly eight hours was through local mobile operators Backcell and Azerfon.
A single point of failure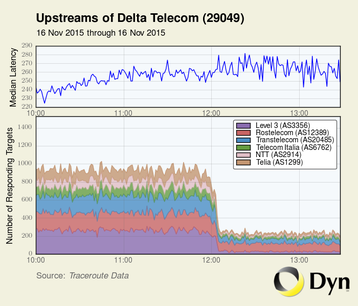 Azerbaijan is a former Soviet republic that has seen rapid development thanks to its rich oil and gas reserves. The country has been running several projects aimed at modernizing its communications infrastructure, including participation in Trans-Eurasian Information Highway (TASIM).
At about 16:10 on Monday, consumers, businesses and government agencies across Azerbaijan suddenly lost their connections to the Internet. Banks couldn't make domestic money transfers, and even Point-of-Sale terminals were not working.
Turns out the outage was caused by a fire at a Delta Telecom data center in the capital Baku. Delta Telecom is the primary network provider in Azerbaijan, responsible for around 90 percent of Internet traffic, and a major player in the Caucasus region.
According to a statement from Delta, some cables in an old data center caught fire. Firefighters and emergency services had to be involved, and the service was only restored by 23:30, after traffic was rerouted to another facility.
However, the Internet was still reported to be unreliable in some parts of the country.
Interestingly, no international traffic flowing though Azerbaijan was affected by the outage. "Transmission channels to Georgia, Iran, and the Middle East were working at full capacity," Iltimas Mammadov, the minister of communications, told AzerNews.