Local real estate firm Vitali is planning a new data center outside Bergamo in Italy.
Italian local press reports the Municipality of Arcene in northern Italy is in discussions with Vitali s.p.a. to develop a new data center campus.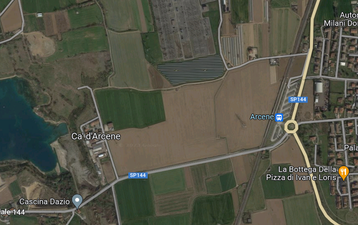 Arcene is a commune in the Bergamo principality in the Lombardy region. The 'Innovation Hub' will span 181,000 sqm (1.95 million sq ft) of currently greenfield agricultural land close to the former 'Tre Cantoni' quarry. Construction is reportedly due to start in 2024.
The site is owned by Vitali s.p.a., which had previously aimed to use the land for an aggregate quarry.
Founded in the late 1980s, Vitali Group is an Italian real estate & infrastructure development firm. Its previous projects include office campuses, logistics parks, and shopping centers.
The news has not been welcomed by Arcene's municipal neighbors. Prime Treviglio reports that the mayor of Ciserano, Caterina Vitali, is against the development and is irked by the lack of official communication between government channels about the project.
"I was negatively surprised to read these articles, given that it is a territory that borders on another municipality," she said. "No official communication has ever been received and it seems to me out of place to illustrate a project of this size when the path includes a passage in the Province as regards the environmental impact."
The Mayor is also against the project based on its destruction of agricultural land. The Ciserano City Council is reportedly backing the Mayor's stance.
In reply, Arcene Mayor Roberto Ravanell wrote a letter to neighboring municipalities pitching the benefits of local data centers and some of the mitigation efforts the development will include to minimize visual and environmental impact, including 5MW of rooftop solar.
"The Pope John XXIII hospital in Bergamo has also consumed land, but perhaps someone thought it wasted?" he said, adding: "A data center is ... a strategic infrastructure connected to national security."
Arcene is located west of Milan and south of Bergamo, some 20 km away from Aruba's data center campus in Ponte San Pietro. The likes of Google, AWS, and Azure are developing campuses in Lombardy for their Milan cloud regions.